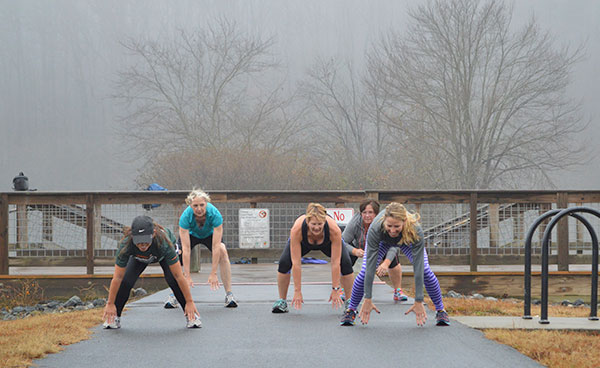 BY: Rachel Fasig
"Lisa Shay is the perfect example of when the mother of the house makes positive choices, it filters through the entire family."  This was the introduction I received from Shay's fitness instructor, Ruth Ungerer, when I met them on a cold, wet morning at Mulberry Park in Dacula for "Boot Camp class".
Shay has been working out with Ungerer for four years now. She meets Ungerer at various locations around Gwinnett three times a week and has missed "fewer days than you can count on one hand." Ungerer added that Shay is "the dream client…extremely reliable and makes fitness a priority and commitment in her life." With four kids, three of whom are in college, balancing finances can be quite a task, but Shay always ensures that her fitness classes remain a priority.
In fact, her commitment to fitness, health and nutrition has penetrated every single area of her life. Once, both overweight, Shay and her husband would revolve family vacations around: eating, drinking and laying around. But, now, they go on trips with friends and family, where exploring, hiking and outdoor activities are key.
Shay says its important to, "surround yourself with likeminded people that'll encourage you…friends that would rather go to the park and walk with you than sit around." Five years ago, Shay had heart surgery and gained a lot of weight. Feeling frustrated with being out of shape, a friend suggested that she check out Ungerer's fitness classes, which offer a range of activities, from: kickboxing to biking, running, cross-training, boot camp and high-intensity plyometrics at various outdoor locations.
When Shay started attending, her main goal was "to be able to keep up and play with her kids" but little did she know that she would surpass that goal and her life would change far beyond that. When Shay started training she couldn't even keep her face in the water while swimming. Now, she swims across Lake Lanier and does sprint triathlons with her husband.
Over the past four years, Shay has lost forty five pounds, which she is extremely happy about, but says the friends she's made, the lifestyle change and the impact its had on her family is invaluable. In fact, once Shay started working out, her entire family followed suit. "My husband has surpassed me now, fitness-wise…I'm very proud of him." And her three college-aged daughters have all learned from their mother. Kelly, age 20, teaches zumba; Maggie, age 22, is a personal trainer and was inspired by Ungerer; and Erin, age 19 is an avid swimmer. Her young son, is slowly coming around as well, and this year the entire family participated in their third annual "Shay Family Turkey Trot 5k" on Thanksgiving Day.
"It takes time", Shay reminds me; it can take time for your family to jump on board with your new lifestyle, but once they see the positive effect its having on your life, they'll want to be a part of it. "I kept telling myself…it took years to put this weight on, it's going to take a long time to take it off too." Be patient, persistent and diligent. Those are central to any fitness and lifestyle journey. Shay has clearly inspired those in her classes as well.
One friend stated, "if I ever feel like I don't want to come, then I think of Lisa and how she never misses class, even if she has a good reason to, and it motivates me. She doesn't make excuses."
Shay doesn't make excuses because working out is no longer a chore for her. "It's a habit now, it's my life now and I wouldn't ever go back to the way I was." she stated. "But, of course you still have to indulge occasionally," she added, "just be smart about it."
Now, it is clear that Shay will continue to touch and inspire others with her story, and continue to be an ambassador for long-term health and fitness.
* For more information on Ruth Ungerer's fitness program, email her at ruth@fitmomandfriends.com.