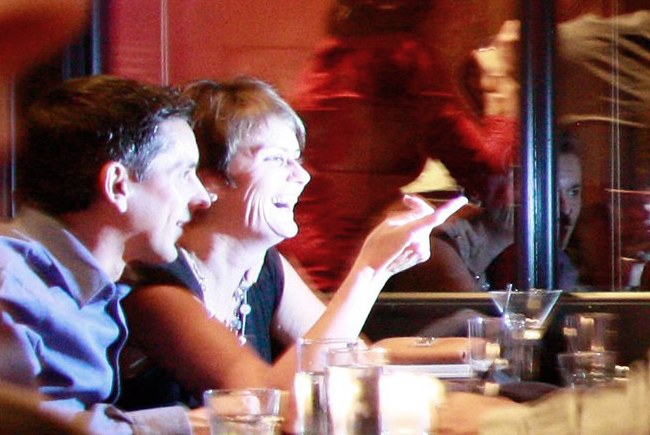 The place for a fabulous dinner, live entertainment and dancing while spending quality time with your spouse, loved ones or a night out with friends.
By: Tana Christian Suggs
With so much to do balancing work and family, it's sometimes difficult to carve out time for you and your spouse or significant other. But Suwanee now has the perfect place to go when you want to go out, dine on good food, enjoy live entertainment and kick up your heels without a long drive to Atlanta and without breaking the bank.
Christine Alestra, owner of the Moondance Restaurant & Lounge, came up with the idea when she and her husband, Mark, were looking for a local venue to spend a nice evening together. They never found exactly what they were looking for, and after talking with friends, she realized there was a need. Moondance Restaurant & Lounge was the answer.
Alestra has partnered with Executive Chef Todd Paige, who has more than 25 years experience in the industry.
"For me it was like a perfect marriage because he saw what we were trying to do, and he loved the idea," Alestra said adding that he was confident and a "magician in the kitchen" who delivers a five star dinner without the high price.
Menu items include a variety of starters such as Jumbo Lump Crab Cakes or Spanish Styled Ribs, soups, salads, entrees and desserts.
Along with serving food, the restaurant and lounge is a venue for live music and dancing providing intimate seating with high caliber entertainment including blues bands, swing bands, jazz bands and more.
So, remember again the times you got excited about going out for a night of dinner, dancing and listening to music you remember and recapture those moments again at Moondance Restaurant & Lounge.
For more information about the restaurant hours, the menu, events, live entertainment and more, visit moondancelounge.com.
Moondance Restaurant & Lounge
300 Peachtree Industrial Blvd • 770-831-9700 • moondancelounge.com