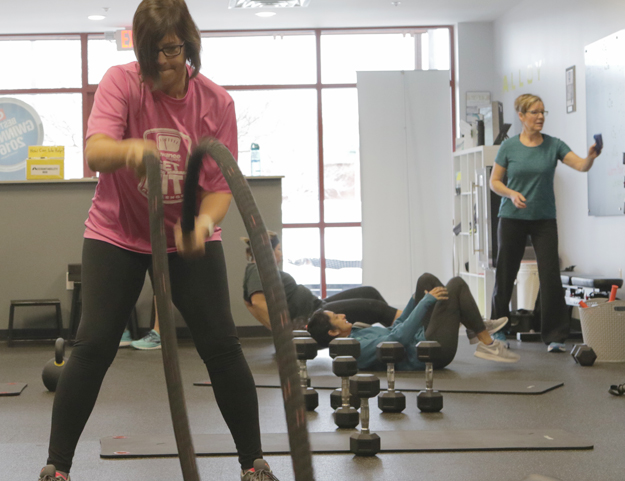 Wow! It's hard to believe that this contest has been going on for a month now. I've seen some positive changes in my diet and exercise program that I hope will last for a long time. I am really enjoying working out at Alloy Personal Training for Women and Anthony is an amazing and inspiring trainer. I wasn't sure how I would like a small group training and am surprised how much I am truly enjoying it. Anthony is able to change up my workouts so that I am never bored, and always feel challenged. But at the same time, I'm feeling like the workouts are making me stronger and more fit! Like I "may" actually have some muscles under all the fat! I never knew that my knees could actually feel stronger! It's hard to believe some days that the exercises I am doing are a workout. Then I leave and I am a hot sweaty mess so it MUST be doing SOMETHING! Right?
I enjoy my job working for the city of Suwanee as one of the event organizers. This is a fun job but can also call for long days of running around the park. It's not uncommon for me to walk 10 to 13 miles a weekend! I am hoping that being in better shape will make those days literally seem like a walk in the park! I'm hoping it improves my rebound time and makes me feel better the morning after a long event day. Being in better shape and dropping some weight will allow my Sundays after events to be enjoyed with my family at ballgames, hiking or anything outdoors instead of staying home on the couch watching television!
Now let's talk about the food! I'm really trying to make smart choices. I'm trying to eat more veggies. I'm watching the fried food. I'm limiting my cheese and sugar. I'm trying to eat snacks and small portions and drink tons of water. I've not had any soda or alcohol since last year (or all 30 days of 2018)! This is the hard part: Making good food choices all the time. But I've also learned that if I do fall off the wagon, it's ok to get back on and try a little harder the next day. I am already gluten-free because of food allergies so bread and carbs are easy to avoid. But cheese dip and tacos? Not so easy for me to avoid! But I have learned to watch how much and how often I eat those!
So these changes are making me feel like a better, stronger and healthier person. Is this easy? No. Is it hard? Yes. Is it worth it? Absolutely. I will never regret jumping in and making 2018 about owning my health!