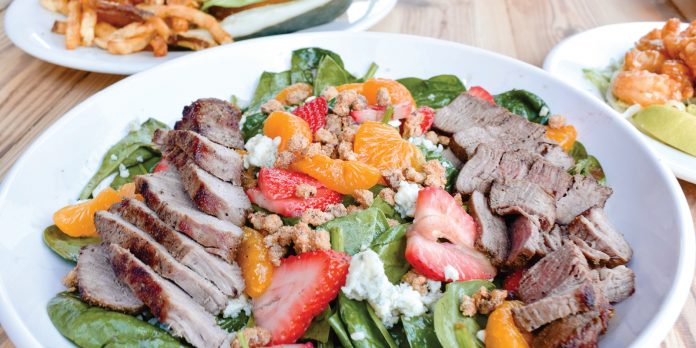 Downtown Buford's Bare Bones Steakhouse unveils a new rooftop space where guests can come for the food and drinks but stay for the view.
By Jessica Dacey | Photos by Jaya Lord and Jessica Dacey
Bare Bones Steakhouse is offering diners a new elevated experience — literally. Patrons visiting the popular steakhouse now have the option to indulge in pre-dinner cocktails or enjoy the evening on its newly renovated rooftop overlooking historic downtown Buford. The new rooftop addition comes with a menu as unique as its panoramic views, but as expected, it's equally as delicious as the full menu downstairs. The rooftop menu consists of the restaurant's famous appetizers, newly added sandwiches and more, all combined with a fresh, alternative atmosphere.
"What I love is that our guests have another option now," says General Manager Andy Travelstead. "Whether they want a big meal in our dining room or something a little more laid-back on our rooftop, our guests can come and be a part of our team and family."
Bare Bones' rooftop will be an extension of the already well-established and thriving dining experience we all know and love, with space to hold up to 118 guests. Owner Buddy Maughon's wife and right-hand woman, Gaye Maughon, wanted the rooftop to feel like
it has always been there and not a brand-new addition. By tapping into Bare Bones' existing rustic and refined design, the team found a way to seamlessly continue the use of reclaimed wood and metal staircases. In fact, guests will be seated at one-of-a-kind, hand-crafted tables by the talented Greg Thigpen, which were made from 100-year-old wood repurposed from Bare Bones' previous location. The team even added a replica of the pre- existing downstairs bar — squarehead screws and all — transporting diners back to the early 1900s. "We still want it to be Bare Bones," Travelstead says.
Diners can still unwind after a long day with their favorite Bare Bones cocktails and small plates to share (or not to share), while also having the option to enjoy a more filling choice such as an entreé-size salad, sandwich or beer-braised hot dog — yes, hot dog. Guests 21 and older are invited to head up to the rooftop and take a seat under rows of dimly lit string lights to experience the familiarity of Bare Bones and historic Buford, just higher up. No reservations are required to enjoy the panoramic views, onion ring towers or BB Tinis.
There is no doubt that this project has been a collaborative and team effort from the Bare Bones family. Every detail down to the shape of the screws has been thought about, talked about, and executed to create an exceptional new experience that Buford has been searching for. So finish that juicy ribeye downstairs then head up to the rooftop and keep the night going by grabbing a seat overlooking the town.
Bare Bones Steakhouse is located at 110 E. Main St., Buford. Call 470-266-1890 for reservations or visit the rooftop – no reservations required. BareBonesSteakhouse.com.