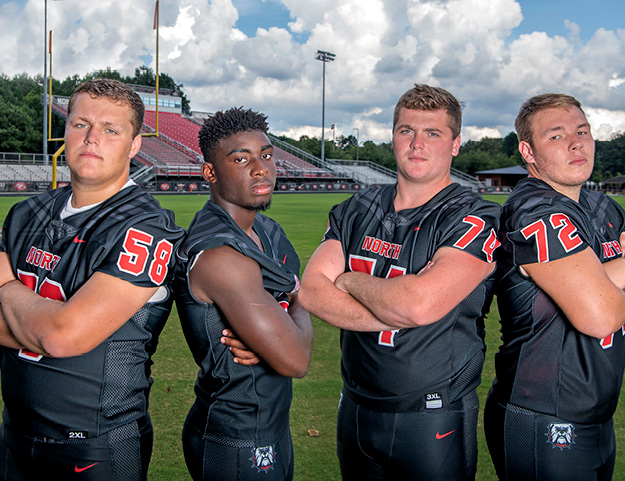 Suwanee Magazine had a chance to catch up with the North Gwinnett Bulldogs to hear what it is like going into the 2018 season as State Champions.
Interviews by Lizzy Kidney and Angela Veugeler | Photos by Karl Lamb
Resilient is the best word to describe the North Gwinnett Bulldogs in their 2017 State Champion Football Season. After losing their first game against Walton High School by only a field goal and suffering multiple injuries throughout the year, the Bulldogs seemed to have all odds against them. However, in the face of adversity and under the new leadership of Coach Bill Stewart, the Bulldogs persevered to bring home the school's first state championship.

IN CASE YOU MISSED IT…
The North Gwinnett Bulldogs had a 14-1 season last year and landed themselves in the Class 7A Football State Championship against Colquitt on December 17th, 2017. The championship game was set to be held at Mercedes-Benz Stadium, but a snowstorm intervened, bringing the game back home to the Bulldog's stadium. With only 49 seconds left on the clock, Colquitt scored on a 13-yard TD pass to bring the score to 17-16. After missing an extra point earlier in the game and with zero seconds left on the clock, it was now Bulldog kicker, Cameron Clark's time to shine. Clark hit a 38-yard field goal to clinch the first state title in the program's history with a 19-17 win.
---
Q&A
WITH

2018 NORTH GWINNETT HIGH SCHOOL BULLDOGS
Coach Bill Stewart:
Coach Bill Stewart left his position as defensive coordinator at Mill Creek High School to become head coach for the North Gwinnett Bulldogs in 2017. He wasted no time in creating a culture at North that helped to lead the Bulldogs to their first state title in the program's history.
"WE WILL HAVE A NEW QB, OUR DEFENSIVE FRONT SEVEN GUYS WILL BE CHANGING, AND WE HAVE TO IMPLEMENT A LINEMAN OR TWO ON OFFENSE"
How does it feel going into this season as state champs?
It's a great feeling, however, we want to make sure we aren't complacent. The biggest thing is that we still work on us and continue to work to be better. Last year, the goal wasn't to win a state championship, even though we did. Our goal has always been to focus on getting better each day and knowing that success can happen if we stick to the process of constantly improving and holding each other accountable.
What has the community support been like since winning the title?
When you win a state championship, you also get to see the community side of things. Sugar Hill and Suwanee really came together, even the mayor came to the game in his old letterman jacket. It wasn't just about the team that won, it was also about all of the teams that had come before it and helped to lead up to this win. You get that sense of pride where it's like, we just won it, not 'they' won.
How has the team prepared for this season?
The team practiced four days a week over the summer. They have been lifting, running, playing in 7-on-7 practice games, and of course, they participated in the team camp. They know what it takes to be successful and have been doing extremely well. They are genuinely in it for each other as a team right now and I'm very excited.
Do you have younger classmen that are stepping up to fill the shoes of the seniors who graduated last year?
Obviously, when you lose people, you have to work with that. With that being said, we will have a new QB, our defensive front seven guys will be changing, and we have to implement a lineman or two on offense. That's where kids that didn't play last year will fill some key spots.
How do you define success for the freshman, JV, and varsity programs?
I think success is simply meeting the maximum of your God-given ability. Success isn't measured by wins or losses. Sometimes the ball can roll the wrong way, but that doesn't define your team. The culture of our team is to have athletes who represent themselves, their families, and their community in a first-class way.
What do you think will be your toughest game this season?
We are loaded with tough games this season. If you look at our first four games, we play at Mercedes-Benz against Brookwood, the next game is the Freedom Bowl against Wekiva High School, who is a top 4 team in 8A in Florida, then we play Norcross for our first home game, and then we play Walton who was the only team to beat us last year. So, our first four games are top 10 caliber teams. We then get into region play and start with the Collins Hill, Peachtree Ridge, and Mill Creek games.
What do you think the team has to accomplish in order to make it back to the championship?
I think that a lot of times there's attrition that takes place. We want to stay healthy and continue to grow as a team and fight through adversity. We know there's going to be failure in the process, but it will come down to how our team handles and bonds from that over time. I think the sky's the limit if every individual on this team believes and trusts in the culture of this program.
Do you think there's added pressure following last year's win?
I think we get everybody's best shot from the beginning. I don't think we snuck up on anyone last year. I think when it was all said and done, and people got our film, it was like, 'oh, these guys are pretty good.' If we drop a game, we are going to learn from that and continue to move forward. It's going to come down to what kind of character our team has to overcome that. I think that's where our team was special last year, and I think that's how we can be special this year as well.
---

Coaches Russell King and Eric Wright:
Both Russell King and Eric Wright have had the unique opportunity of coaching on the same field they played on in high school. The two coaches have taken their past experiences and used them to help mold the new team of Bulldogs.
"SOME PEOPLE COACH 40 YEARS AND NEVER WIN A STATE CHAMPIONSHIP, SO THIS HAS BEEN A HUGE BLESSING." – COACH WRIGHT
What is it like going from being a previous NGHS player to now being a coach?

Coach Wright: I often give the analogy of "we built the ship that these guys are riding in and they can cruise and be North Gwinnett because we actually had to become North Gwinnett." I think it really is a dream come true for me. I knew I always wanted to be a coach and I didn't really plan on coming home to do it, but you can't pass up an opportunity to coach in a community like this.
How do you think your experience of playing at North before helps when coaching them now?
Coach King: I think it goes to the fact that we know what North is about. We know you touch that NG logo as you walk out of the weight room, and we know every Friday night we run out through the banner with a bulldog. Those are important traditions that we have always done, and it is special to get to keep those traditions alive and have the opportunity to pass it down to these athletes. These players are so much better than we ever were, and if we can give them a millimeter of success, it will make them that much better.
What was it like winning the championship and having the community rally around you?
Coach King: I remember after we won, grabbing one of the other coaches and saying, "I never thought this would happen." It was such a surreal feeling. The best story I have is Caleb Scott, who played receiver for North, went on to play for Vanderbilt, and is now at the Seahawks, was the first person on the field when we won. He jumped the guard rail and was the first person to hug Cameron Clark after he made his field goal. It's just that sense of community, that all these people came back to support and watch the game. There was no sense of jealousy, it was WE won it, North Gwinnett had finally made it and everyone took pride in it.
Coach Wright: Suwanee runs deep with the Bulldogs, and I couldn't even tell you how many messages I received. It was to the point where I had to turn my phone off. I never thought it would happen in my third year as a coach. We had all odds against us and we pushed through. Some people coach 40 years and never win a state championship, so this has been a huge blessing.
Do you think there is added pressure to win this season?
Coach King: With this group, there is no pressure. We have so many kids who are ranked, and to them, it's just another day. We don't have an underdog mentality. It's not "we are the underdogs," it's "we are North Gwinnett."
Coach Wright: We are North Gwinnett now. We haven't lost a JV game in the last two years. I'd be lying if I told you we thought we'd be competing for a state title last year. Then the middle of the season it just clicked, and the players started realizing that they had a shot. I remember calling Warren Burrell three games ahead and him saying, "look, Coach, we are going to win this thing."
As previous student-athletes, how do you keep players focused in the classroom?
Coach Wright: We have a group of brilliant kids who really know school is important, and I think that kind of trickles down throughout the team. Our school itself doesn't let them fail. They get an hour lunch where they can take that time to get tutoring. We have a system put in place from a school aspect that helps our athletes succeed as well.
---

Tyler Goodson
Running Back
Senior Running Back Tyler Goodson has not only been a key player for the Bulldog's offense but has been a key leader as well. Goodson has committed to play for the University of Iowa after graduation.
"TYLER WAS ONE OF THE BEST RBs IN THE STATE LAST YEAR. THIS YEAR HE IS COMING IN AS AN EVEN BIGGER, FASTER, AND STRONGER PLAYER THAN HE WAS LAST SEASON." – COACH STEWART
What was it like winning a championship and seeing the community rally around you?
It was awesome, especially because it was the first time winning a state championship in school history. Seeing the community come together as a family and celebrate our first title with us was amazing.
How do you plan to carry that momentum through this season?
I just plan to keep a positive attitude, pick up my teammates, and let them know that everyone is a leader and team player. It is important that we love and think about each other as a team, and not just ourselves.
Do you feel any added pressure to win this season?
don't at all. I feel like if we actually put the work in and trust the process, we have another chance to go all the way. If we listen to our coaches and respect what they teach us, I don't think anyone should feel any added pressure.
What have you learned from last season that you hope to carry over into this one?
I learned that this team is really good with adversity. We had some guys who really had to step up when we had injuries, and they definitely stepped up big time. I think that shows how strong we are as an overall team.
How does your position impact the overall team?
I think as a running back group, performing well shows that hard work pays off and that if you trust the process great things will happen. I think that reflects on our whole team in general because once our team sees that, everyone will come together and execute.
---

Will Hamilton
Center and Right Guard
Senior Center and Right Guard Will Hamilton began his senior season on a high note. After a very successful Junior season, the 6'2" 275 lb. lineman committed to play football at Columbia University next year.
What was it like to win a state championship, and to have the community rally around you?
The turnout was amazing. To bring in additional seating, to see the stadium as full as it was, the parking madness – it was incredible. To win the first state championship on our own field, right there in that end zone, it was incredible. It was really like a dream season and we are hoping to do the same thing again.
How do you plan to carry that momentum through this upcoming season?
We are just really focused on working through the new pieces we got. Trying to get the same bond, just with the new guys. Just adjusting to different people in different positions and trying to push through and create that brotherhood that really carried us through the last part of the season.
Do you feel any added pressure going into the season as state champions?
With a program as prestigious as North Gwinnett is, we always want to go and put the pressure on ourselves to do well and win state titles. Definitely coming off winning one, there is a little bit of added pressure, but I am just focused on what we can do and this season coming up.
What have you learned from last season that you hope to carry over into this one?
The ability to adapt and overcome. Last year we had the starting quarterback go down, the starting running back out for a couple games, suspensions in the playoffs, and the state game getting bumped back a week. All sorts of adversity that you have to adapt to and overcome and I definitely think that's something I'm going to carry with me this next season.
Do you have any pregame rituals?
Yeah, well on Fridays during third-period weight training, Coach Smith, the offensive line coach, always cooks us pancakes for however many pancakes we got the week before. We have a griddle; he cooks up pancakes and bacon for us. So that's definitely a good pregame ritual. Right before a game I always listen to the National Anthem to myself and Amazing Grace. Those get me in the zone.
---

T.J. Skinner
Offensive Lineman
T.J. Skinner helps to provide a solid wall for the offense.
What was it like to win a state championship, and to have the community rally around you?
It was a great feeling. It was one of those surreal moments, especially with the community behind us. It felt good to finally give back, finally to win a boy's championship, a championship of our own. Growing up in school, that's all we ever talked about – winning a state championship. It was awesome.
How do you plan to carry that momentum through this upcoming season?
By having the same attitude we did last year going into every game. Just wanting to do the best we can and not so much just breaking people down, but lifting people up and encouraging the young guys. Once we leave, it's going to be their turn to carry on our legacy. So, it's the mindset: let's win a state championship, let's get closer again as a brotherhood, let's do what we did last year and just go back out there and win another one.
Do you feel any added pressure going into the season as state champions?
Yes, a little bit because we are the defending state champions; it's not like we are going to get 2s from another team, we are going to get the best of the best and everyone's gunning for us. I'm excited for what this season holds and I'm ready to go play with my friends for one last time.
What have you learned from last season that you hope to carry over into this one?
To be a brotherhood, more than anything, just care about the guy next to you. That's mainly what we try to do, we hang out outside of practice. We'll all constantly do things together, like camping, going to the lake – trying to keep the brotherhood. We want to create one giant family that's going to carry on where even 50 years from now we will remember, 'that was my family for that year.'
Do you have any plans for after high school yet?
Hopefully to go play college football, but if not, to go to college, enjoy life and live my life the best I can.
---

Justin Bullock
Left Tackle
Justin Bullock joins Hamilton and Skinner on the offensive line. The 6'2" 275 lb. senior plays left tackle and helps to contribute to the overall success of the o-line.
What was it like to win a state championship, and to have the community rally around you?
It was actually crazy, the impact the community had on us as a team. How they flowed into the game with us, it was just a cool experience to be there, how they rushed the field at the end of the game was really cool. It was a good experience the entire time.
How do you plan to carry that momentum through this upcoming season?
It's been with us this entire time but as a team we kind of decided, that was last year's team, we have to build this year's team. We have to work in the future and whatever comes our way, comes our way. And, we have to play every game one at a time.
Do you feel any added pressure going into the season as state champions?
Not at all. We're just going to go in there and beat everyone. It's our mentality.
What have you learned from last season that you hope to carry over into this one?
After our first loss as a team, we couldn't give up. If there is ever a down point in our season, like, our quarterback was out the second game of the year and we had to rally back from that. Our backup quarterback carried us all the way to state, so, amazing things happen.
Do you have any pre-game rituals?
Before every game, I go out and push the sled.
Do you have any plans for after high school yet?
I have a couple offers to go play football at different colleges, but I have not committed anywhere yet.