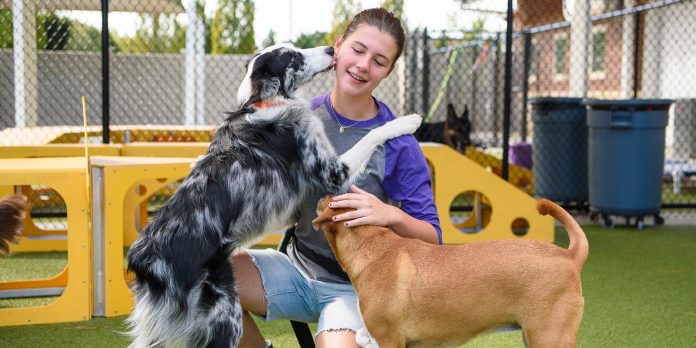 PetSuites Johns Creek serves as your pet's home away from home with exceptional daycare and boarding packages for pet owners on the go.
By Alicia Carter | Photos by Karl Lamb
For 20 years, PetSuites has built a reliable reputation for both its high-quality pet daycare and boarding facilities and its exceptional personalized service. Two years ago, PetSuites opened its Johns Creek location, bringing its upscale daycare, boarding, and grooming services to busy pet owners in the area. By working to meet the needs of each individual pet they serve, PetSuites offers peace of mind for "pet parents" who leave their four- legged BFFs in their care.
PetSuites Johns Creek offers several premium amenities, such as large indoor and outdoor play yards, in-ground pools (shaped like bones!), and unique play structures that will help your pup get plenty of exercise. They also offer Luxury Townhome Suites along with Classic Suites so pet parents can choose the option that best fits their needs. Whichever you choose, rest assured that PetSuites offers all its "residents" best-in-class boarding services with sizable suites and fun activity packages to make the most out of their time away from home.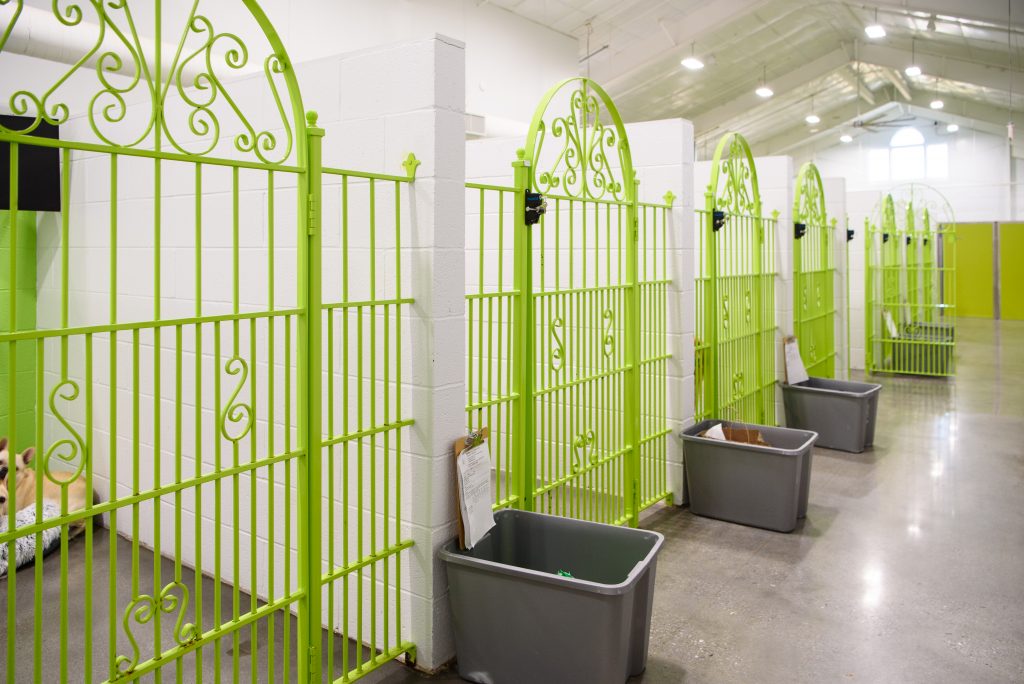 Spacious Private Suites
If you're planning a vacation or need your pup to stay overnight, PetSuites offers two boarding options to make sure your pet enjoys a comfortable stay. PetSuites' Classic Suites are spacious, private suites that feature plush bedding, three daily potty walks, room service, and daily housekeeping. The Luxury Townhome Suites have all the accommodations of the Classic Suites, but with a few extra levels of comfort including larger suites, a raised bed, and a personal TV so your pooch can relax while watching the tube.
A playtime activity package is required for the Luxury Townhome boarding option, and pet parents can choose between three different packages: Bronze, Silver and Gold. These packages range in offerings, including personalized play times, specialty treats, extra potty walks, and daily photo updates so pet parents can rest assured their pets are well taken care of while they're away.
PetSuites also offers boarding options for cats! Your feline friends will enjoy a two-story "cat condo" complete with a cozy bed, privacy panels, room service, and daily housekeeping for their private litter box. Each condo also features your choice of a window view or personal TV. Feline packages include the Silver option with an individual play time and a specialty treat, or the Gold option, which upgrades your cat's stay to two individual play times along with the specialty treat.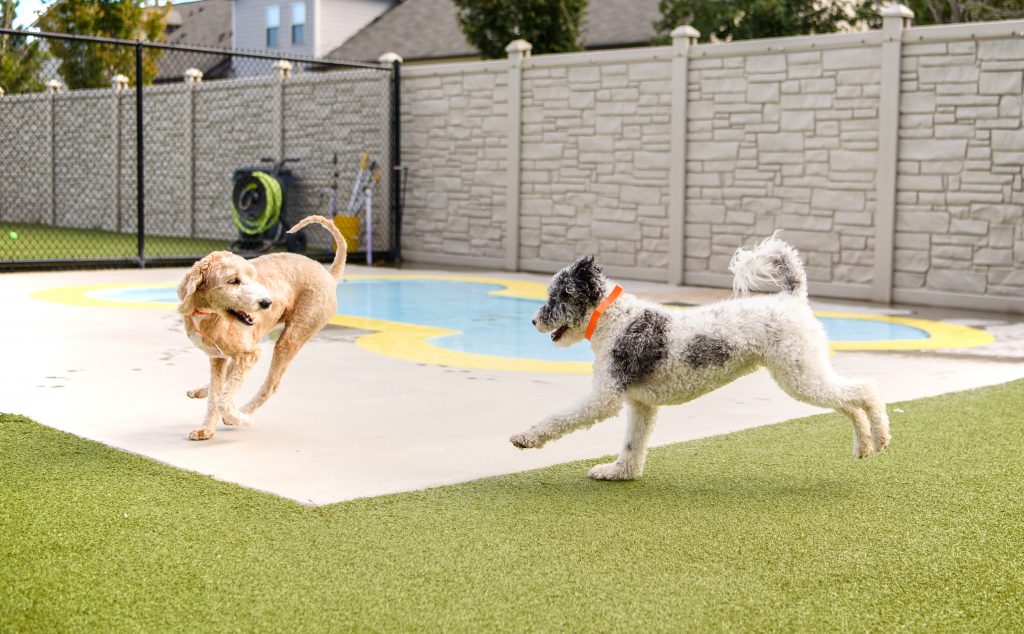 Doggy Daycare
Need a place for your pup to stay while you're at work? PetSuites' daycare options give your pet a fun-filled experience with plenty of time to play with all their friends. Their indoor and outdoor play areas feature play structures, swimming pools, and plenty of activities to keep dogs entertained for hours, while cats are spoiled with individual play times and places to climb.
PetSuites even offers daycare options to best fit your pet's personality. For the social butterflies, opt for "All Day Play," which features more than eight hours of play in both the indoor and outdoor play areas. If your pup needs a break from the all-day play, parents can choose the "Half- Day Play," where pups will enjoy up to five hours of play with some relaxing breaks.
For those more people-oriented pups, "Day Boarding" offers a relaxing private room, multiple potty walks, room service, and two individual play sessions. If your pet needs a little TLC, consider sending them to the Day Spa, where they will receive a play session in addition to their bath or grooming services.
PetSuites also offers a Puppy Preschool for dogs between three and six months old who will learn basic manners and social skills in a fun-filled, safe environment. The Puppy Preschool program is dedicated to reinforcing important life skills, such as crate training, problem-solving, and puppy etiquette. Plus, your pup will make tons of friends during social play sessions that will help them learn to interact with other dogs.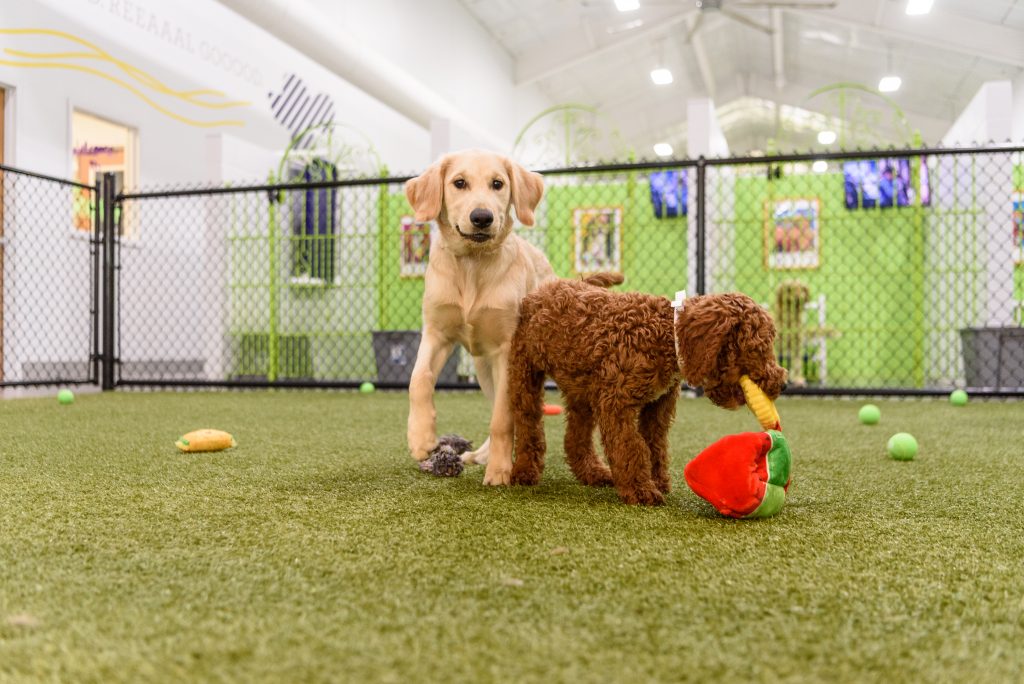 Groomed and Fabulous
From a simple bath to head-to-paw pampering, PetSuites offers a number of grooming options to make sure your pup leaves refreshed and in style. Pups can receive a bath that includes a hand wash with premium shampoo along with a standard nail trim, ear cleaning, a thorough brush out, and a traditional bandana or bow. Pet parents can also opt to treat their pup to a haircut or indulge in extra add-ons such as dental hygiene packages, deep-coat conditioning for dry skin, or an extra brush out or de-shedding to give them (and you!) some much needed relief from shedding.
Whether you need a safe and convenient place for your pup to stay while you're at work or if you need an option for an extended stay where you can have peace of mind while you travel, PetSuites Johns Creek is happy to serve as your pet's home away from home. As they say, PetSuites is in the business for "the love of animals and the people who love them."
PetSuites Johns Creek is located at 8030 McGinnis Ferry Road. For more information call 470-621-3929 or visit JohnsCreek.PetSuitesofAmerica.com.