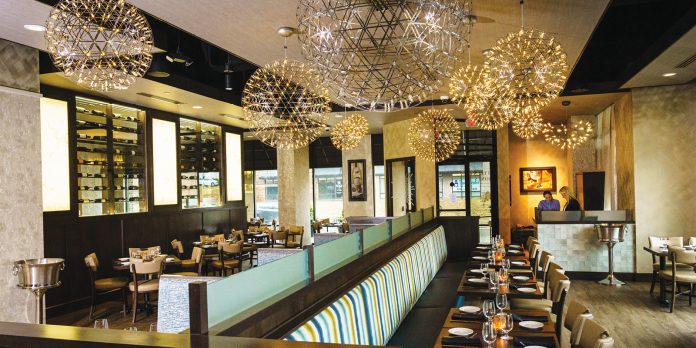 Bottles & Bones, Suwanee's new modern chophouse, boasts old-school service and an upscale, lively lounge.
By: Alicia Carter | Photos by Tina Rowden Photography
Gathering together to share a meal has always been at the heart of families, friendships and communities. Lately, however, during a time when instant gratification is king, the art of the old-school fine-dining experience seems to have taken a backseat. But as we enter a renewed summer in Suwanee, simple pleasures are experiencing a renaissance, and this is good news for Rob and Jennifer Taranto, who've made hospitality their life's work.
The husband-and-wife team has been well-known in the Atlanta dining scene for years. Rob grew up in the industry and worked as a server and bartender before transitioning to the hotel business, where he spent time as a banquets manager, catering manager, and then food and beverage manager. He then went on to develop several successful bar and nightclub concepts in Buckhead before moving his family to Park City, Utah.
Over time, Rob and Jennifer made their way back to Georgia and settled here in Suwanee. "We love this tight knit community and all our friends here, but we missed the fine dining options that you can find in the city," Rob says. Seeing a gap in the local restaurant offerings, Rob and Jennifer set out to create the kind of restaurant they wanted to dine in – one that they felt the neighborhood needed. Enter: Bottles & Bones.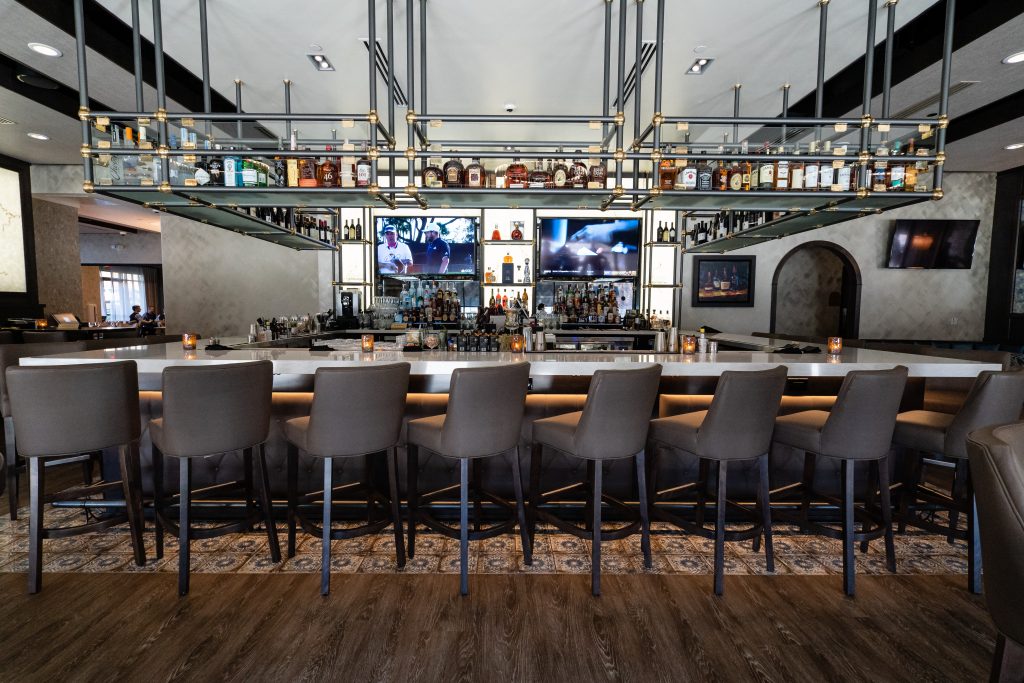 Located in the heart of Suwanee at Siena Town Center, Bottles & Bones is described as a modern American chophouse that focuses on an impeccable menu combined with old-school service. "With Bottles & Bones, we are passionate about providing upscale and approachable hospitality to the Suwanee community and beyond," Rob says.
Jennifer worked closely with Lawrenceville- based Z-Space Design to design the 165-seat restaurant and create a space that's both elegant and inviting. The result is a departure from the traditional, dark steakhouse design. In its place, the space features a rich and warm color palette with an open kitchen, 36-seat formal private dining room, and a lively lounge.
As for the food, Rob describes the menu as upscale but familiar. "Our menu focuses on fresh, seasonal ingredients and approachable offerings featuring aged prime steaks sourced from Nebraska, daily fresh seafood and a wide variety of gluten- free selections," he says. "In addition, there is an extensive appetizer menu, a robust cocktail and wine menu, and stand-out side dishes."
"Given our name, our steaks are, of course, a favorite," Rob continues. "Our 20-ounce bone-in ribeye prime steak is a top choice among guests, as is our 12-ounce filet. For a lighter fare, I recommend our North Carolina stuffed flounder over grilled asparagus." Other dishes include a lemon herb roasted half chicken, pan-seared yellow fin tuna, and stuffed flounder, as well as more modestly priced dishes such as the bacon cheeseburger and grilled salmon and prime rib sandwiches served with fries.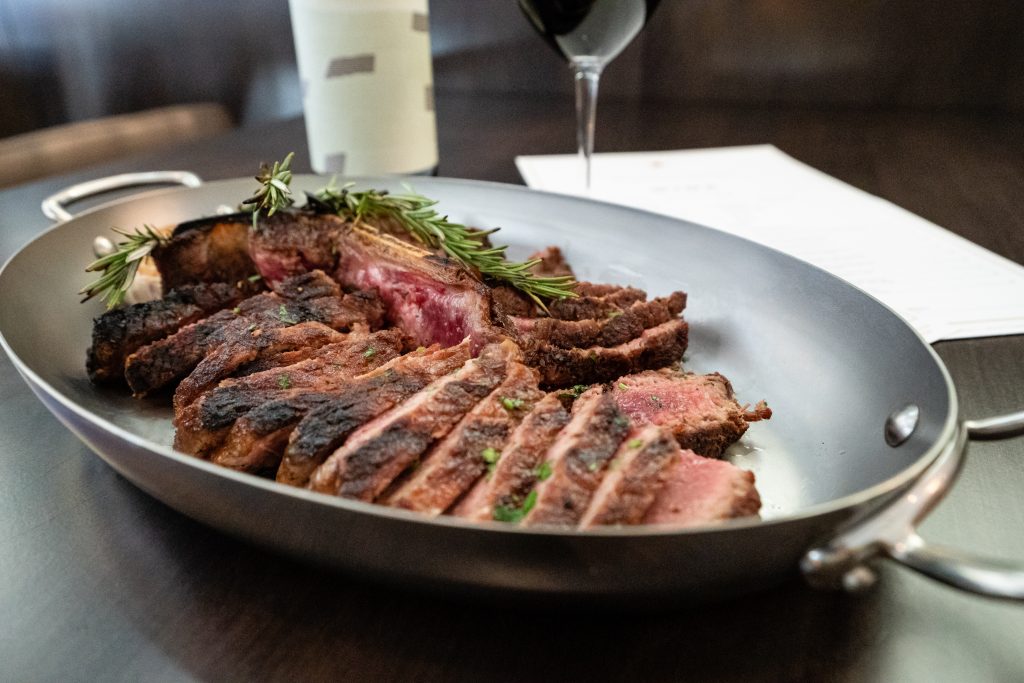 Bottles & Bones is also one of the few restaurants in the Southeast using Josper grills and ovens, produced in Barcelona, Spain. Josper offers the opportunity to grill over wood charcoal, which seals in juices and adds a specific and subtle flavor to fresh seafood, prime meats and small plates.
To round out the Bottles & Bones experience, the Tarantos enlisted Emile Blau to serve as general manager. "Emile Blau came to us with years of experience running the finest steakhouses in the country – most notably, a 22-year career at Bones Steakhouse in Atlanta," Rob says. "We are fortunate to have him at the helm, treating guests to impeccable, old-school service. Our pedigreed management team provides an experience that is approachable and appealing for a weeknight bite, craft cocktail in the lounge or weekend celebration."
In addition to exquisite service and a stand- out menu, Bottles & Bones is also home to the 40-seat "Lounge at Bottles & Bones," which the team designed for entertainment, and features a 16-seat bar and baby grand piano. Guests can enjoy live music regularly as the lounge welcomes local, established artists.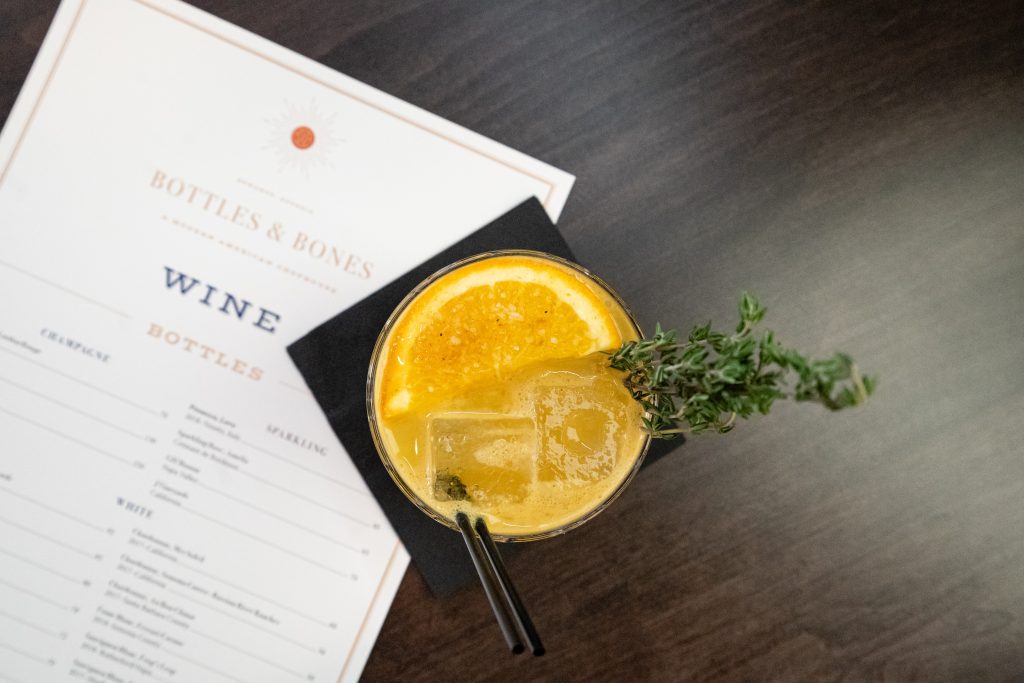 When Rob and Jennifer Taranto set out to bring a new dining experience to Suwanee, they certainly didn't expect to be met with a worldwide pandemic that hit Georgia just weeks after they originally opened in February. But they aren't letting it hold them back. "It has been a whirlwind," Rob says. "We are grateful for our community's enthusiasm since launching and for their continued support throughout the pandemic. Most importantly — we are thrilled to safely serve the Suwanee community once again."
Bottles & Bones is reopening mid-June for dinner starting at 4 p.m. Tuesday-Saturday. New lunch hours available after Fourth of July weekend and brunch launching soon. Stay tuned for updates on their website and social media. BottlesandBonesGA.com.