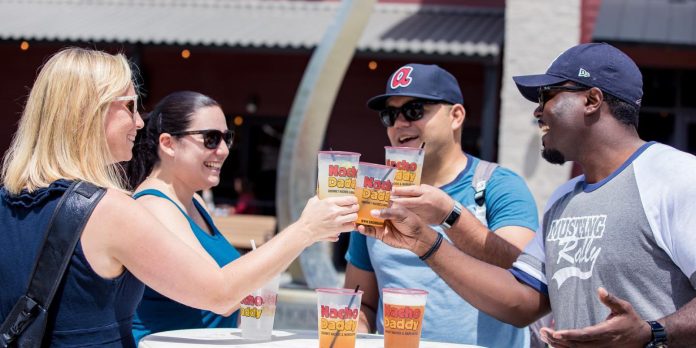 Our community is home to many awesome patios that are perfect for sipping in the sunshine or people watching while you grab some food and drinks. From rooftop views and lakeside eats to family-friendly (and pup-friendly!) outdoor spaces, we've highlighted some of our favorite local patios to enjoy this summer.
By: Lizzy James
Remember when you were younger and your parents told you to go outside and play? Well, we're giving you the same advice this summer — and our community is filled with places to get outside and enjoy an ice cold drink or delicious meal. Plus, the benefits of soaking up some much needed vitamin D, aka the "sunshine vitamin," are plentiful. In an effort to highlight the top outdoor patio and dining areas in our distribution area, while also enjoying a little vitamin D myself, I took on the "tough" job of scoping out the best patio options for every occasion. From a beer with friends to a nice date night out, these patios are sure to become your new summer hangouts!
Pig Tales
6800 Lights Ferry Road, Flowery Branch
Nothing beats a summer day out on Lake Lanier! Whether you're coming by boat or by car, Pig Tales in Flowery Branch is the perfect place to enjoy a delicious meal and a few drinks by the water (I highly recommend grabbing a mouth-watering Banana Cabana). Throw in cornhole, live music, and a pet-friendly patio and you have the perfect lake day meal! Pig Tales is only open seasonally, so be sure to go and check them out before they close!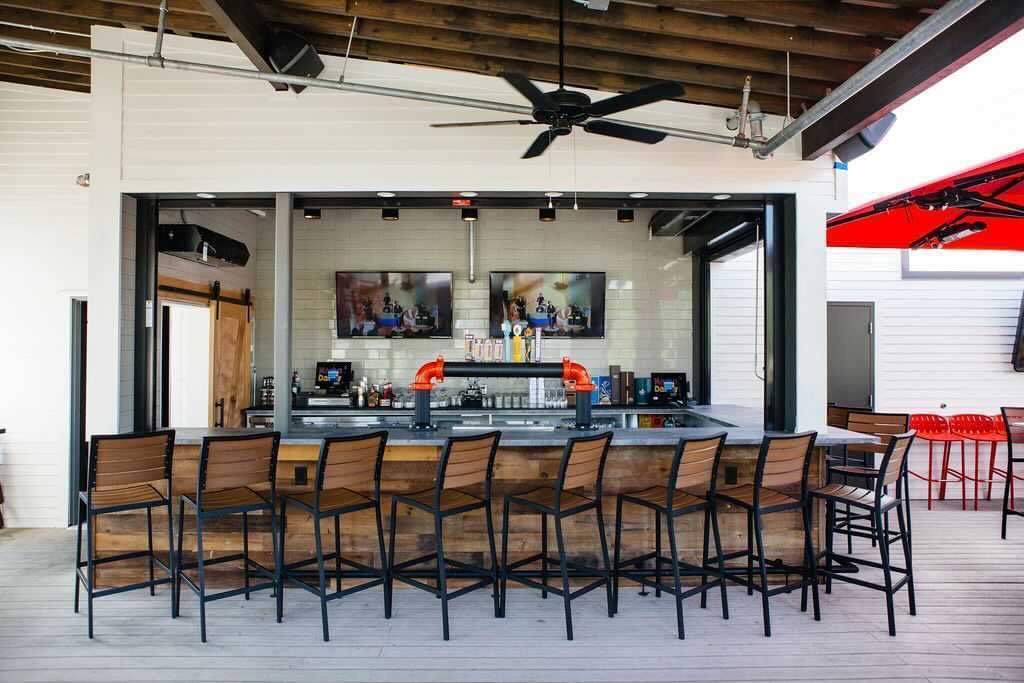 Nacho Daddy
3095 Main St., Duluth
Duluth's Nacho Daddy serves some of the most insanely delicious gourmet nachos I have ever had. Throw in a rooftop bar and patio, $5 happy hours, and a Taco and Tequila Tuesday (hello two for one tequila shots!) and you have the perfect recipe for a fun night out! If you're feeling extra adventurous, Nacho Daddy is home to the original scorpion shot that has been featured on Food Network, Animal Planet and more.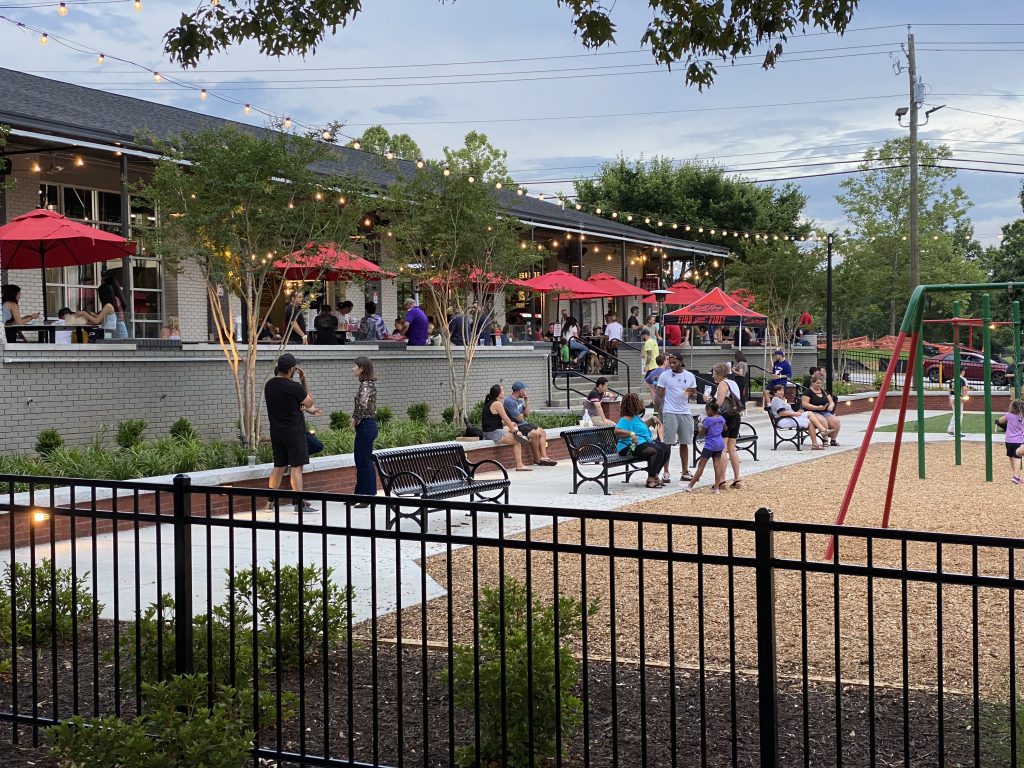 StillFire Brewing
343 US-23, Suwanee
Whether you are looking to enjoy a beer with friends or have a family day out, StillFire's dog- friendly patio features big shady umbrellas, stellar people-watching, and an adjacent playground in newly finished Station Park for the kids! On any given day you can find people enjoying a round of cornhole, playing giant Jenga, listening to live music or ordering a meal from one of the many rotating food trucks that visit the taproom! The only downside? Having to decide which of their 25 beers and seltzers you want to enjoy next!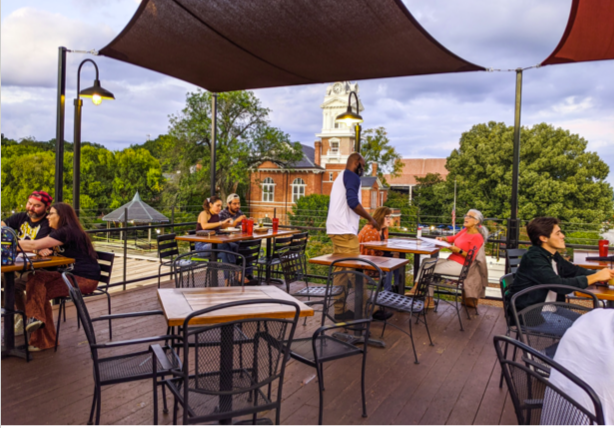 McCray's Tavern
100 N Perry St., Lawrenceville
Located on the Square in Lawrenceville, McCray's Tavern has been a favorite hangout since it opened in 2007. The restaurant's large rooftop bar and patio provide great views of the Lawrenceville skyline and make for the perfect atmosphere to enjoy a meal or a few drinks with friends. If you are looking for a fun brunch option, head over to McCray's on a Saturday or Sunday for a Bloody Mary, or spend all day on the rooftop with its $20 bottomless mimosas!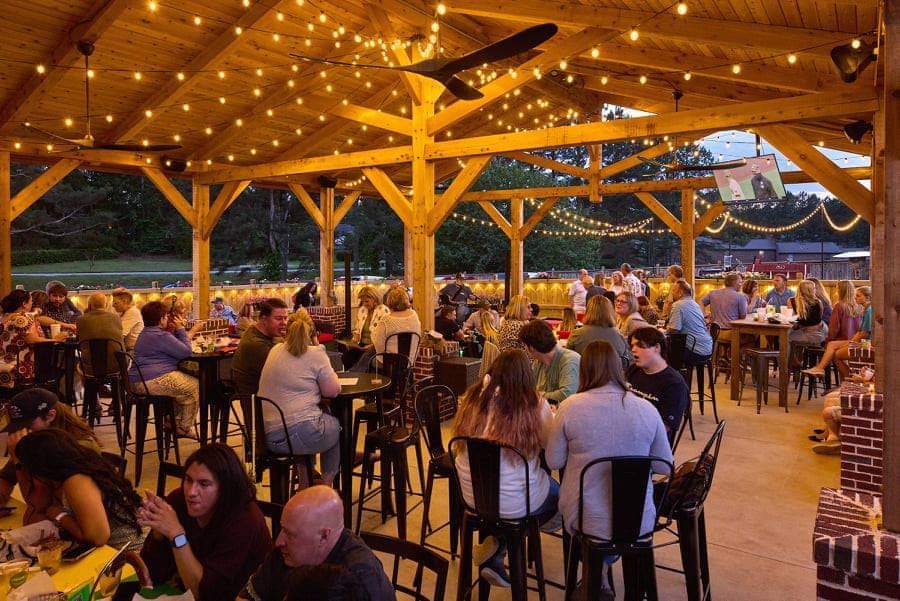 Sugar Hill Distillery
1166 Church St., Sugar Hill
Located in the heart of downtown Sugar Hill, the Sugar Hill Distillery is the first in the nation to manufacture and produce both fine spirits and German- style beer in the same equipment. Throw in a full-service restaurant and awesome outdoor patio space, and you have a unique place to hang out with friends this summer! Stop by on a night when they have live music on the patio. Your pups are also welcome to tag along!
Bare Bones Steakhouse
101 E. Main St. N.E., Buford
Bare Bones Steakhouse has been a community mainstay for more than 5 years. Its new two-story location in downtown Buford opened this past spring and the outdoor patio is perfect for those who want to enjoy a nice date night out. The restaurant's historic charm and high-class atmosphere carry over to the patio, which features high-top tables and a charming view of historic downtown Buford. Trust me when I say that few things in life beat pairing one of their BBTini's with a delicious bacon- wrapped filet!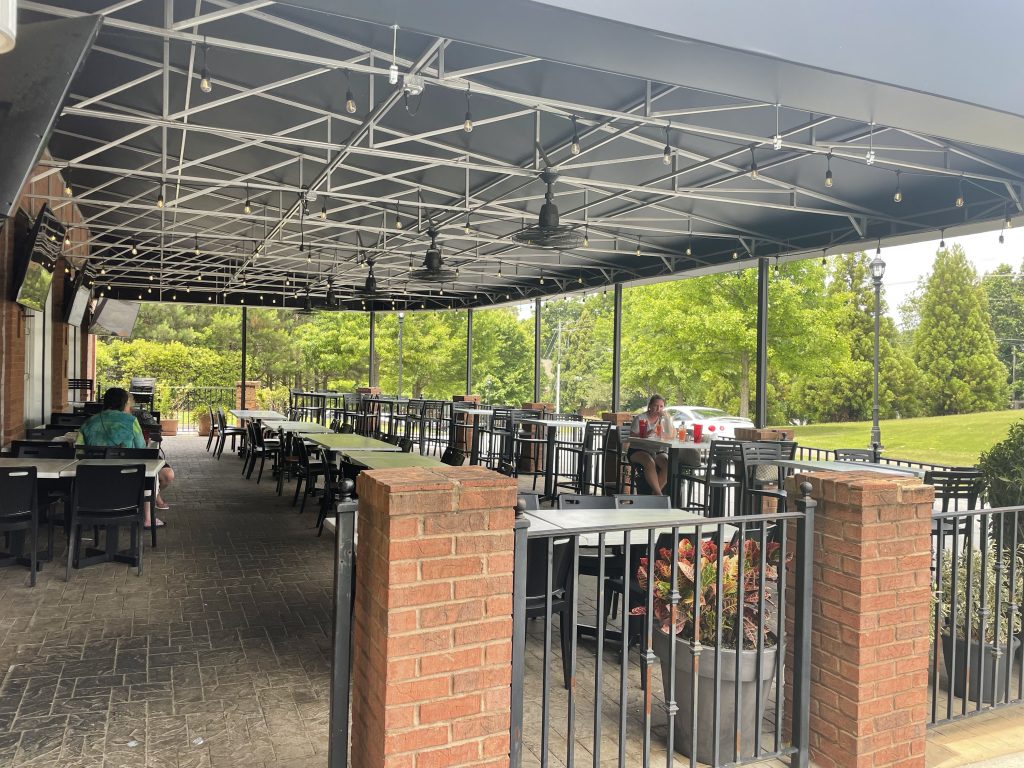 Cheeky Taqueria
1039 Peachtree Industrial Blvd., Suwanee
Chances are if you've lived in Suwanee long, you've enjoyed a house margarita or two out on Cheeky's patio. Not only does their covered patio have a fun, inviting atmosphere featuring garage doors and string lights, but there's also something on the menu for the entire family to enjoy. I highly recommend pairing a pomegranate margarita with the Agave Chipotle Lime Wings (Voted 2019's Best Wings in Suwanee)!