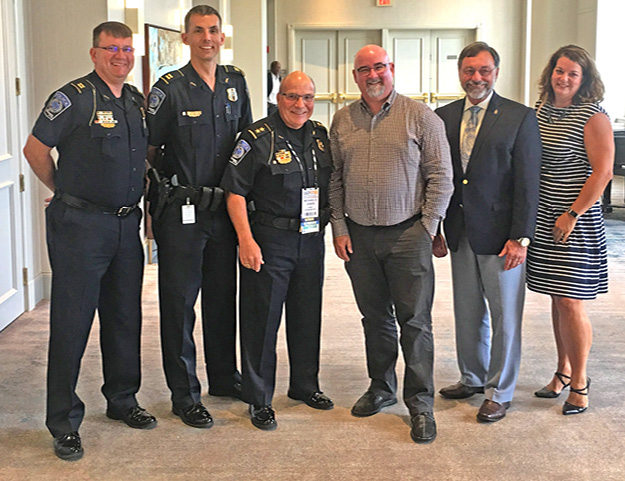 Mike Jones has been in law enforcement since 1974, where he worked as a dispatcher with the City of Rome Police Department. After 24 years of dedicated service to Rome, he was able to rise in ranks to Major and in 1999 accepted the position of Chief of Police for the City of Suwanee. It is because of his huge impact and dedicated service that Police Chief Mike Jones was named Outstanding Chief of the Year by the Georgia Association of Chiefs of Police (GACP) at the GACP Summer Training Conference in Savannah.
The GACP is the largest professional association for law enforcement administrators in Georgia, and also happens to be one of the largest in the country. The association's goals are to promote cooperative, professional relationships throughout the state, to evaluate the standards of police institutions and the profession, to offer quality training and continuing education for administrators, and to provide opportunities for police executives to exchange information and experiences.
That is why when Mike Jones received Outstanding Chief of the Year this past July, it wasn't just a notable award for him, but a huge honor for the entire City of Suwanee. The Suwanee Police Department has doubled in size during his time as Chief as well as received recognitions such as being CALEA accredited multiple years, receiving multiple state certifications, and being awarded the Phyllis Goodwin Agency of the Year by the Georgia Chapter of the FBI National Academy Associates in 2016.
Chief Jones has made it a personal goal of his to further educate his fellow officers and the community and in 2001 established a P.A.C.T. (Police and Citizens Together) program as a tool to build trust within the community and enhance local watch programs. The program produced huge successes and has since been implemented by other agencies in Atlanta and around the world, gaining national and international attention and recognition.