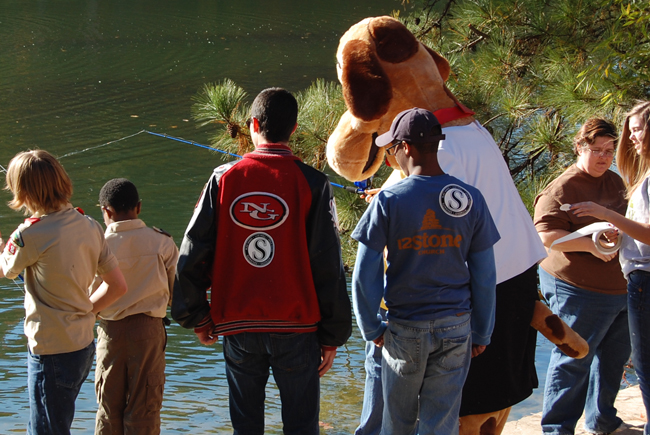 CITY BUZZ: Suwanee Happenings January through February 2012

Pierce's Corner sold to developer
Suwanee's Downtown Development Authority (DDA) sold one of the oldest commercial buildings along Main Street to  Deming LLC. Deming acquired a 50-year lease purchase on the approximately 6,000-square-foot, two-story Pierce's Corner building, which was constructed in 1910. Vacant for several years, Pierce's Corner, located at 597 Main Street, was most recently an antique shop. Throughout its 100-year history, the building also has served as a general store, cotton gin, grocery store, dentist office, and silent movie theater. Late last year, the DDA issued a request for proposals for Pierce's Corner that would serve as a catalyst for future growth and vitality in historic Old Town.
The Deming proposal was one of 11 received earlier this year through that process.  As part of its three-phase plan, Deming will first remodel the main Pierce's Corner building. Design for renovations is anticipated to begin in the first quarter of 2012 and will include techniques designed to achieve LEED certification, such as providing parking for bicycles and fuel-efficient vehicles, collecting rainwater for landscaping and sanitary uses, adding a green roof, using solar panels, and sourcing building materials locally whenever possible. Future phases include potential new construction and residential uses. Deming plans to have its offices on a portion of the building's top floor, leasing additional business incubator space on the second floor and rehabilitating the bottom floor to suit a future retail/commercial tenant's needs, which may include a restaurant use.

Parker and residents celebrate area parks
Nov. 5 area residents headed out to area parks to celebrate the 10th anniversary of the bond referendum vote that made possible Suwanee's new parks and acquisition of approximately 350 acres of open space. It was a progressive dinner-format where area residents took part in back-to-back "courses" or activities at the various parks. For the first time ever, there was fishing  (for one day only!) at Sims Lake Park. Festivities ended with a free concert at Town Center Park featuring three hometown crooners, Andy Velo, Jordan Humphrey, and Clark King.
Suwanee holds elections
Nov. 8 Suwanee voters elected Jimmy Burnette as the new mayor. In addition Dick Goodman, who ran unopposed, was reelected to Suwanee City Council  and Doug Ireland was elected to serve his first term as a Suwanee City Councilmember. In all, a total of 1,374 ballots were cast in Suwanee's municipal election. The unofficial results were as follows:
Mayor
Jimmy Burnette, 876 votes
Dan Pittman, 454 votes
Council Post 1
Doug Ireland, 804 votes
Jimmy Spiro, 474 votes
Council Post 2
Dick Goodman, 1,046 votes
Suwanee Academy of the Arts holds annual Gingerbread Festival and Contest
Suwanee residents rolled up their sleeves and created some fun and unique Gingerbread houses for the Suwanee Academy of the Arts Gingerbread Festival and Contest on Dec. 3. Festival goers were entertained with talented performers from the academy and voted for their favorite gingerbread creations in a number of categories.

Contractor approved for Suwanee Police Substation
Suwanee City Council has approved a contract with Hogan Construction Group of Norcross for construction of a new 7,100-square-foot police substation and training facility at 2996 Lawrenceville-Suwanee Road in the Suwanee Gateway area. Work is expected to begin on the substation by the end of December or early January.
Construction was approved at a maximum cost of a little more than $1.6 million; the anticipated total project cost is approximately $1.99 million. The project is funded primarily through SPLOST funds.
Designed by Tunnell-Spangler-Walsh & Associates, the facility will provide an enhanced police presence in the Suwanee Gateway and provide class space for regional police training and indoor firearms practice. A one-story facility, the building features clean lines in brick and a lofty, glazed entrance.
"Placing a police substation in the heavily commercial, heavily traveled Suwanee Gateway area serves several purposes," says City Manager Marty Allen. "Most importantly, it serves an operational need to provide ongoing training opportunities for our police personnel, reducing the need for them to travel to other jurisdictions for such training."
Construction is expected to require approximately eight months.

Santa Claus ushers in the holiday season
Santa Claus made his annual visit to Suwanee arriving via his tractor-pulled sleigh to magically light the red caboose on Main Street on Friday, December 2 while young and old waited anxiously for Santa's arrival to usher in the holiday season.
Old Town Holiday Festival and Caboose Lighting festivities included performances of favorite holiday tunes from choruses from Level Creek, Riverside, Roberts, and Suwanee elementary schools. Area residents sipped hot chocolate and munched on cookies, and s'mores. Children shared their wish list with Santa at the Burnette-Rogers Pavilion.
Shadowbrook Baptist holds 4th annual Christmas in the Park
Area residents strolled through Town Center Park the evenings of Dec. 9 and Dec. 10 taking in the sights and sounds of a Dickens-like village while focusing on the true meaning of Christmas. Area choruses performed and the church collected canned goods to donate to the Caring Hearts Ministry food pantry.
Sunday alcohol sales referendum passes
Suwanee voters overwhelmingly approved a referendum that will allow alcohol package sales by retailers on Sundays. The vote was 1,023 in favor and 341 opposed.