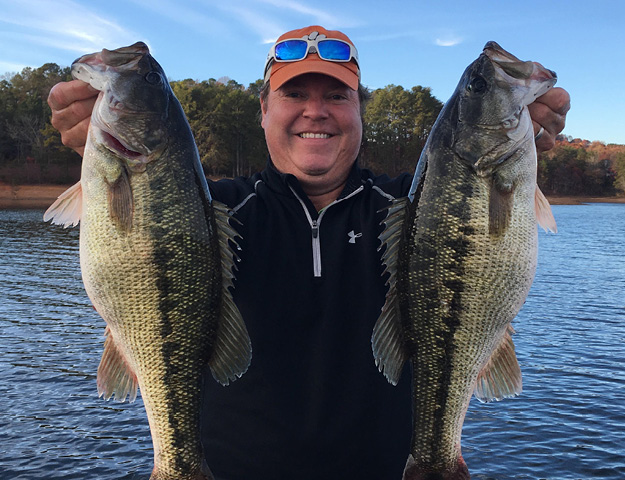 Bass fishing has been a huge part of Suwanee resident David Morton's life since childhood. The countless days spent fishing with his dad as a young boy turned into a passion that has led him to compete in this year's BASS Nation National Championship.
Morton has been competing in bass tournaments for more than 15 years and joined his first club team six years ago. Since then, he has won the BASS Nation State Championship three times, is the reigning 2018 State Champion, and has been a Georgia State team member for five years. Morton's success is possible because of the support of local businesses like Columbia Sportswear, St. Croix Rods, Greenfish Tackle, Oakwood Bait, and Tackle, Lowrance, and JJ's Magic. He even inspired his son to join the Bass Fishing Club at North Gwinnett High School.
"I qualified for the BASS Nation National Championship through my fishing club," Morton says. "Each club sends six anglers to the state championship, then from there, we went on to Regionals where the top anglers get the opportunity to compete at the National Championship."
This November, 66 anglers — 50 from the U.S. and 16 from other countries — will compete to be crowned a national champion during the three-day tournament. Morton will compete for one of the top three spots for the opportunity to move on to the Bassmaster Classic, the premier event in professional bass fishing. Similar to how the U.S. Open provides a path for amateur golfers in the National Championship, professional bass fishing does the same.
"From the time I first watched bass fishing on TV as a little boy, I always dreamed of fishing in the Bassmaster Classic," Morton says. "This year is especially important because it is the 50th anniversary of the BASS."
The National Championship will be held on November 8-10 in Florence, Tennessee.