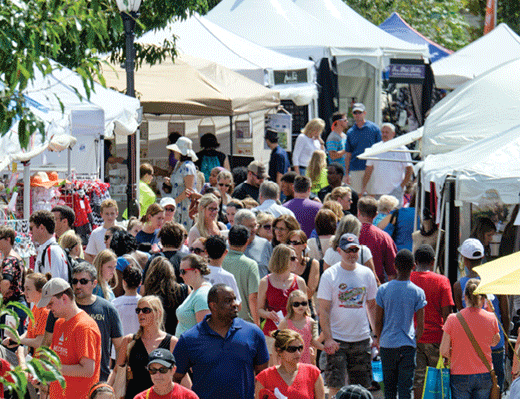 Suwanee Fest is returning to Suwanee Town Center Park on September 19th -20th. The two-day festival, features more than 100 arts and craft vendors, dozens of food vendors, a parade, live entertainment, rides and activities for children.
The theme of this year's festivities is "For the Love of Suwanee," and the celebration begins just as it has every year for over two decades, with the annual parade. The Family Fun Zone is restyled this year, with entertainers, vendors, and
activities geared toward families. It will include a free photo booth, "the parrot lady" and her exotic birds, entertainment with Sir Crazy Pants SirCrazyPants, the Bubble Man, zombie makeovers, a reptile exhibit, sidewalk chalk, and more!
As festival attendees walk through the park, they are able to explore art, jewelry, artisan products, carnival games and watch the large variety of performances on the main stage.
The award winning festival highlights community, heritage, family, business and culture within the City of Suwanee. Originating in 1984, just 75 people attended the first festival. Now, in 2015, Suwanee Town Center Park is preparing for over 50,000 attendees. For almost three decades, the City of Suwanee has made it a priority to gather together to celebrate our community and seeing how the festival grows year after year; it appears the citizens of Suwanee believe this is something to celebrate too.
Schedule of Events:
Saturday, September 19th
9:00 am Parade
10:00 am-7:00 pm Arts & Crafts Exhibitors
10:00 am-7:00 pm Inflatable rides & Children's Activities
10:30 am-7:00 pm Free Entertainment
5:30 pm Headline Performer:
Face to Face Billy Joel/Elton John Tribute Show
Sunday, September 20th
12:00 pm-5:00 pm Arts & Crafts Exhibitors
12:00 pm-5:00 pm Inflatable rides & Children's Activities
12:30 pm-5:00 pm Free Entertainment
For a full list of entertainment visit: suwaneefest.com