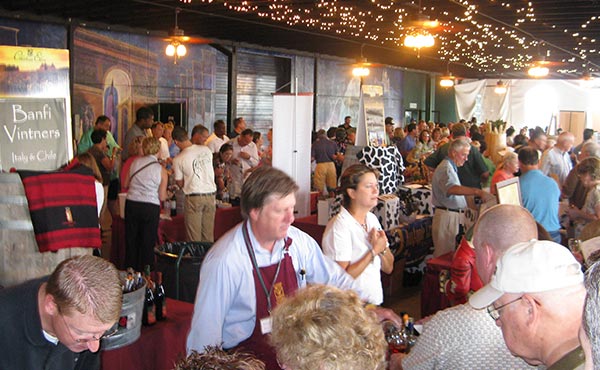 BY: Sean Wilborn OF CHÂTEAU ÉLAN
It's that time of year, festival season! Atlanta Food and Wine Fest has come and gone. Sweetwater Brewery's 420 Fest was a great way to kick off the Spring, but the fun isn't over! There is more wine fun to be had and two festivals in particular that are a must for your calendar!
For nearly two decades, Vineyard Fest at Château Élan has been a staple event for metro Atlanta. Each year, 2000 tickets are sold to wine lovers from all around who enjoy live music, local food, wineries, breweries and distilleries in addition to wines from all over the world. At this year's festival, Executive Chef Julio Delgado along with Winery Chef Chad Guay will focus the culinary experience around locally grown fare – an ode to all things Georgia grown.
This is a foodie's fantasy land with delicious food at every turn! Producers of some of the finest artisan nibbles that Georgia has to offer will lay out their crafts for all to enjoy. There will be cheese from local producers, olive oil from the only commercial olive farm on the whole East Coast, bakeries, live music, grape stomping and much more. And did I mention wine?
Wineries from all over the state will convene in one place on a single day to showcase the wines of the great state of Georgia. Each wine region of the world will also be represented, allowing for a rare opportunity to have the entire world in your hands! Vineyard Fest is on August 24th and tickets are on sale now at chateauelan.com and Château Élan's Wine Club Members receive a discount off the ticket price.
Then, set your calendars for October 4th when Suwanee Beer Fest organizers and Château Élan play host to the second annual Suwanee Wine Fest at Suwanee Town Center Park! Compounding on what was a hugely successful inaugural event, this year's Suwanee Wine Fest will prove to be even more amazing than the first. Enjoy the cozy ambience and beautiful scenery of Suwanee Town Park, while imbibing on the best wines you can possibly put on your palate! Live music, good eats, friends and fun will be the perfect pairing for Atlanta's premier wine event! With the introduction of a local craft beer garden and unlimited wine + beer samples, this event is sure to draw the crowds, so be sure to purchase tickets in advance! Tickets go on sale August 8th at noon at suwaneewinefest.com. Hope to see you there! ■