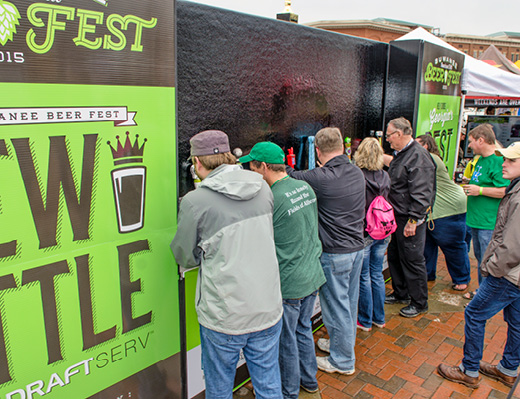 Back for the second year is the Suwanee Beer Fest Brew Battle competition powered by DraftServ Technologies! Ten Georgia breweries have submitted their best brews to go head to head in a fierce competition to earn the title of "Best Beer in Georgia 2016!" Festival attendees have the opportunity to taste a variety of specialty craft beers and watch as their pours are tracked and ranked on a live leaderboard, eventually leading up to one brewery being presented with the coveted trophy and ultimate bragging rights for 2016.
Georgia Tea Party
An Amber Ale that uses English Malts, German Hops and homegrown Georgia Peaches with subtle notes of Black Tea. Nothing represents the South like homemade sweet tea and nothing says I'm from Georgia like a ripe, juicy peach. Eagle Creek Brewing Company.
Southeastern Berliner
Brewed with yeast harvested off a Wild Azalea prior to clearing the land to build Southern Brewing Company. This is a strain never before used in the beer industry. Kettle soured with Mango, Peach, Nectarine And Tangerine aromatics. Southern Brewing Co.
Georgian Imperial with Hazelnuts
Strong notes of chocolate and roasted nuts all with the viscosity of warm syrup. This is a cold beer though, not a warm syrup, so it tastes way better. Although they recommend you let it warm up a bit in the glass before sipping. Monday Night Brewery.
Groovy Child Guava Ale
A blonde ale dry hopped with Nelson Sauvin Hops, a New Zealand variety with lots of grape-like and tropical fruit notes, and infused with 10% Guava Nectar, of course the cask will kick in a matter of hours! Cherry Street Brewing Co-Op.
Pear Infused Big Creek
Big Creek is a delicately balanced beer style originating from the Cologne region of Germany. Infusing this beer with Pear adds a new unique twist to a deliciously crisp, dry beer. Jekyll Brewing.
Peach Rhubarb Belgian Saison
A Belgian Saisonwith 5% ABV that uses a variety of malt, traditional Belgian Saison yeast, with a delicious mix of Rhubarb and Peaches. Reformation Brewery.
Suwanee Beer Fest Bock
This Bock is brewed by Copper Creek Brewing Co. especially for the Suwanee Beer Fest Brew Battle Competition. This beer has a strong malt aroma coupled with rich toasty overtones that finish with a hint of spice and citrus. Copper Creek Brewing Co.
Golden Ticket Milk Chocolate Stout
Swiss Milk Chocolate and Hazelnut Imperial Stout brewed with Hot Chocolate and Hazelnut. This beer is crazy and delicious enough for Willy Wonka himself. Southern Sky Brewing Company.
Coco Piña Gose
A kettle sour brewed with Pineapple, Coconut, Pink Himalayan Salt and Sea salt. You would think the brew is sweet but the salinity in the finish balances it perfectly. Coast Empire Beer Co.
Lemon Tangerine Hopsecutioner
A bitter, moderately strong India Pale Ale (IPA) that uses its clean, supporting malt to showcase its hop character, finishing with notes of Lemon and Tangerine. Terrapin Beer Co.