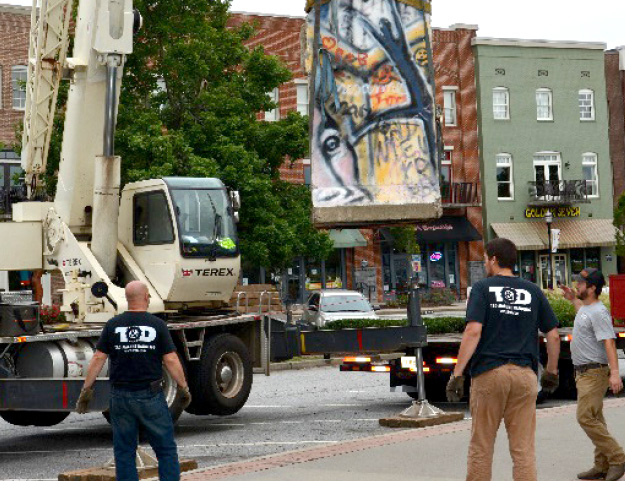 A piece of history has made its way back to Suwanee for good! A 12-foot-tall, 7,000-pound, authenticated piece of the Berlin Wall will now be prominently displayed in Town Center Park. The wall, which once separated East Germany and West Berlin, was generously donated to the city by Friends Suwanee Grill proprietors Ray Stanjevich and Suzanne Cartwright.
"I was born in a communist country, and Suzanne's mother immigrated from Germany after World War II," said Stanjevich, a Serbian immigrant. "We think it's important to remember the past and not forget that many still live without the basic freedoms that we enjoy in the United States."
The East Berlin side of the wall features graffiti depicting an American flag, a silhouetted figure, and three buildings, while the side that once faced East Berlin is predominantly untouched. The pair first purchased the piece in 2013 at an auction on the Town Center Stage. It was originally displayed outside of their Suwanee restaurant, but they decided it would have an even larger impact if donated to the city as a public art piece.
The historic piece can now be enjoyed by the entire community and will serve as a reminder of our history for generations to come. For more information regarding the Berlin Wall public art piece, or the City of Suwanee's public art program, visit suwanee.com/explore-suwanee/ public-art.