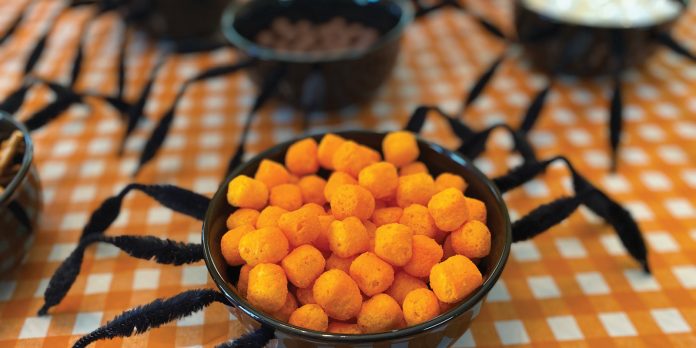 Not feeling the Halloween spirit yet? These spooktacular ideas are sure to get you in a frighteningly festive mood for your next spooky soiree!
By Natalie Garrett
When October rolls around (and before my Christmas-crazy starts kicking in), I thrive on all things Halloween. The spooky decorations, eerie soundtracks, clever costumes, frightening movies, gory tricks and cavity-inducing treats… however, if you're unlike me, who gets thrilled by an epic Freddy vs. Jason battle, then that's completely acceptable, too! Pumpkins and princesses? DONE! Halloween doesn't have rules or an age limit. It gives kiddos the opportunity to live out their super hero and heroine fantasies, while adults can embody their inner-child and embrace group costumes with their friends or family. These are the best parts of this holiday — it's the one day of the year that you're guaranteed to enjoy however you decide to celebrate. So, wherever the ghosts may lead you this year, here are a few of my favorite festive ideas that are suitable for anyone feeling the Halloween spirit.
Spider Bowls
I'm so fond of this idea for a few different reasons:
• It works for a variety of events whether you're attending a party or staying in for the night hosting a Halloween-themed movie night.
• You can involve the littles! This is a simple, hands-on craft using minimal materials, making it an amusing Halloween activity in itself.
• They're just plain adorable! It takes snack time up a notch, making you look like a Pinterest pro.
Creating your spider bowls:
1. Gather your materials:
Black bowls. Any black bowl will work for this! I bought ceramic bowls from the Dollar Tree, but plastic would serve the same purpose.
Black pipe cleaners. I chose these "bump" chenille stemmed pipe cleaners from Hobby Lobby because I felt they gave the spider legs a little more dimension, but your standard pipe cleaners would also do!
Adhesive. Since my bowls were ceramic, I went with a less permanent approach – small pieces of tape. If your bowls are plastic, or you want them for more long-term use, I'd recommend using a hot glue gun.
2. Assemble your spiders:
With a bowl around the size of a cereal bowl, you'll be able to make two legs out of one pipe cleaner. I cut the pipe cleaners in half and then folded one end of the pipe cleaner into a 90 degree angle, just long enough to sit flat against the side of the bowl (about one half of an inch). I taped this flat end of the pipe cleaner to the side of the bowl and then bent the pipe cleaner around the middle so it angled down toward the table. I added four legs on each side, and VIOLA!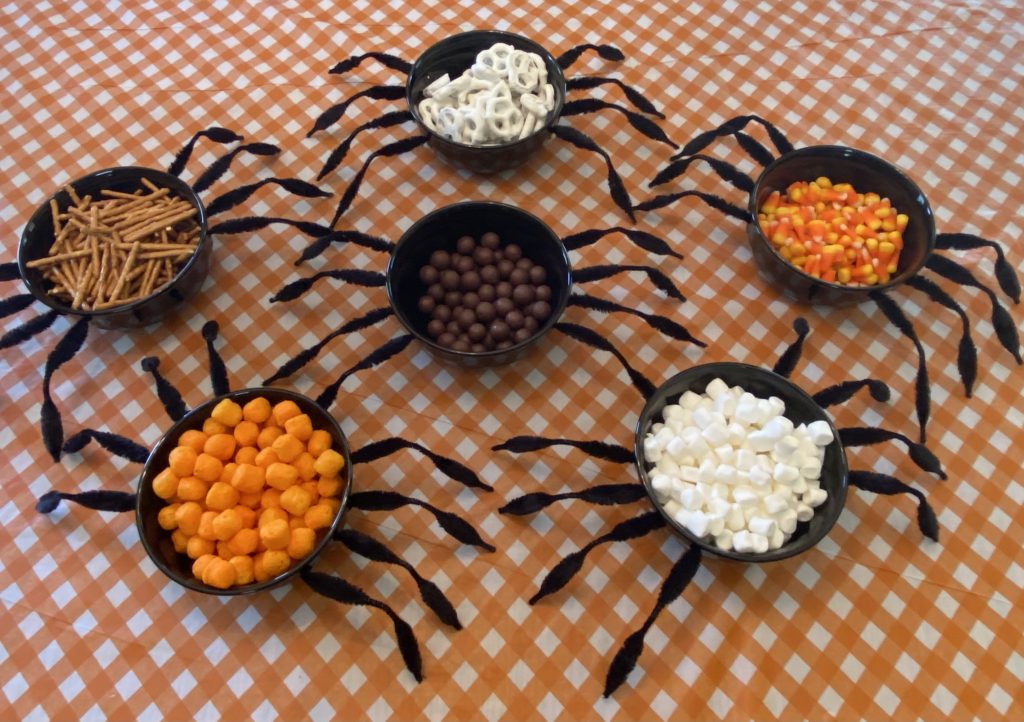 Using your spider bowls:
Constructing the bowls is only half of the entertainment — FILLING the bowls is your chance to really get imaginative. The options are endless! Personally, I find great joy in associating edible items with catchy names that follow the theme. For example:
Candy corn = Jack O'Lantern Teeth
Marshmallows = Ghost Dust
Pretzels = Witch's Broomstick
Cheeto balls = Pumpkin Poop
Whoppers = Spider Eggs
White chocolate covered pretzels = Skeleton Bones
You can easily incorporate a label either onto or next to the bowls, which is a sure-fire way to get a grin from everyone who comes across this snack spread. You could also add a large bowl of popcorn for guests to mix similar goodies into ("monster munch" perhaps?) or even assorted nuts to form personalized portions of trail mix (or would that be a "haunted trail" mix?).
You've been BOOED! or BOOzed…
The first time I was "BOOed" – I fell in love with the idea! A close neighbor friend of mine alarmingly knocked on my door and took off running, which quickly left me questioning what trouble she was up to… then I noticed on the ground sat a Halloween-style candy bucket filled with some of my favorite treats and a note that read "You've been BOOed!" Also included with my treats was a miniature-sized bottle of my favorite adult beverage (champagne) with another note that read "Couldn't forget the BOOze!"I was tickled! I found this to be such an easy and effective way to spread some Halloween cheer and let someone know you were thinking about them.
As another aspect of the holiday that lacks rules or an age limit, I thought this could even become an exciting exchange in an office or work setting (think Secret Santa, but Secret Skeleton). It could also provide children another chance to flex their creative muscles by decorating paper lunch sacks and filling them with delectables for a fa-BOO-lous friend. A teachable moment initiating a random act of kindness that exercises their minds and motor skills, while also being engaging and festive? Parenting win!