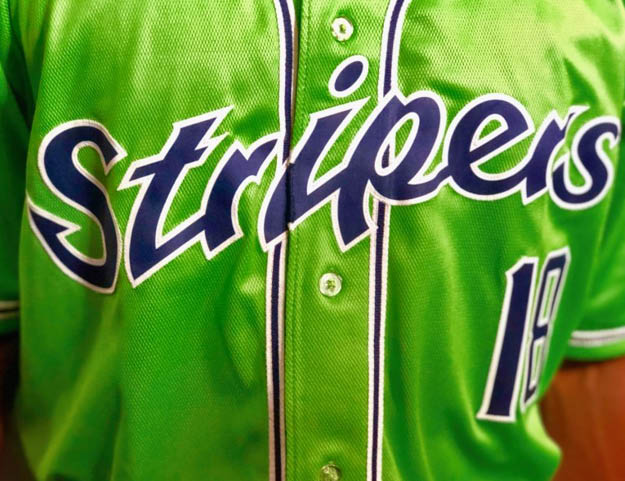 After a six-month creative process that included input from the Atlanta Braves, sports marketing firm Brandiose and submissions from fans, the Gwinnett Baseball Club unveiled its new name, logos and uniform to the public in December. The Triple-A International League team will now be known as the Gwinnett Stripers.
"We are excited to begin a new era as the Stripers," said Vice President and General Manager, North Johnson. "Gwinnett County is known for offering a wide variety of outdoor activities, including year-round striped bass fishing on Lake Lanier. As the Stripers, we will honor that outdoor tradition while sporting a unique identity that fans across the region can embrace."
A total of 4,024 submissions and over 900 different names were sent in by fans during a "Name the Team" contest in May, and a selection committee narrowed the entries down to six finalists in July: Big Mouths, Buttons, Gobblers, Hush Puppies, Lambchops and Sweet Teas.
With help from an online public vote, the selection committee initially decided on Big Mouths. Further discussion and development resulted in a change to the Stripers, a name that was included in the fan submissions but was not one of the six finalists.
"Big Mouths was the inspiration that ultimately led to the Stripers," said Johnson. "We felt focusing on the striped bass would better reflect our community, with Lake Lanier known as a premier destination for striped bass fishing and located just a short drive away from Coolray Field. The Stripers name perfectly fits the region while also having a timeless baseball feel."
The Gwinnett Stripers open the 2018 season with a road game on Friday, April 6 at 7:05 p.m. vs. the Norfolk Tides. The Stripers' home opener at Coolray Field is set for Thursday, April 12 at 7:05 p.m. vs. the Rochester Red Wings. For more information or to purchase tickets, visit gostripers.com.