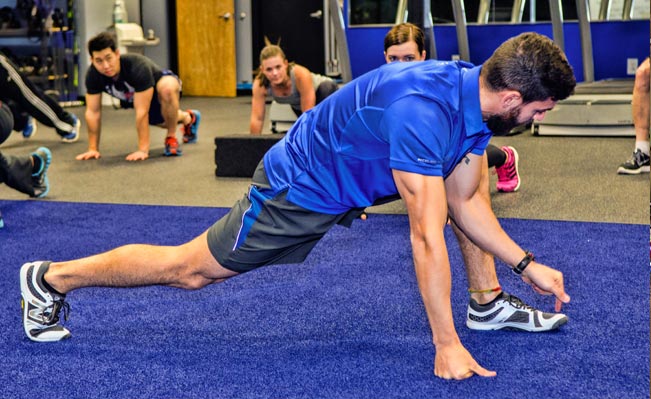 Changing people's lives through fitness, nutrition, education and support
By: Rachel Fasig
With a Bachelors of Science in Human Nutrition, Foods and Exercise from Virginia Tech University, Jake Williams explicitly understands how and why food affects our bodies inside and out. And, as the owner of Stage 3 Fitness, he teaches clients that fitness and nutrition must always
work in conjunction with one another.
It wasn't until he impressed this upon 30-year-old Megan Young, that she was able to lose 94 pounds! Young joined Stage 3 Fitness four years ago, but she was admittedly inconsistent with working out and certainly not committed to eating well.
Young was a vegan and had been for ten years – meaning she did not eat any animal products whatsoever: no meat, no dairy. "But, that didn't mean I ate well. I was eating a ton of carbs and processed foods – even Oreos, which are vegan!" she confessed.
Like many others, Young associated vegan or vegetarian with being healthy and thin. But, on the verge of turning 30, and tired of losing then gaining the same 20 pounds over and over, Young decided it was time to take her health seriously. "I thought about the long-term ramifications [my weight] would have on my body and if I'd even be healthy enough to start a family if we wanted to," she said. So, Williams pulled her aside for a serious reality- check about her diet and started counseling her on nutrition.
"It took having sound guidance…and Jake gave me that," Young said. "People will have the best intentions and think they're eating healthy, but they're not," she said of her previous habits. Young preps and plans her meals for the week every Sunday, and works out at Stage 3 five or six times a week. She has since dropped from a size 20 to a size 4 or 6! And, her husband, who is amazed with her results, has recently joined as well.
She says consistency is key: consistence with healthy eating and consistence with working out. Over time, fitness and nutrition will become part of your lifestyle and something you're passionate about, she noted.
Stage 3 Fitness recently relocated to a larger establishment on Peachtree Industrial with new equipment, more classes and more offerings. It is a group fitness facility, with classes led by certified trainers. "We put a lot of time and effort into training our trainers. They all have a degree
in fitness or nutrition, or are working towards one," Williams said.
"These are group classes, but you still get very personalized attention," Young explained. And, with three different stations, you move through a wide variety of exercises during the class, which target different body parts. The trainers are careful to explain modifications based on fitness level or injuries. "Jake cares so much about his business and is truly passionate about what he does. Whether you want to lose 10 or 100 pounds, they will help you meet those goals," she said.
The foundation of Stage 3 is built upon Williams' commitment to changing people's lives through fitness, nutrition, education and support. The name 'Stage 3 Fitness' represents a three-stage mental and physical process that people experience during their health and fitness journey: feel it, see it, be it.
By the final stage, described as "Be it" – fitness and health are fully integrated into one's lifestyle and have become an integral part of their core being – just like they have for Megan Young.
686 Peachtree Industrial Blvd.
Suwanee, GA 30024
678-430-8054
stage3fitness.com