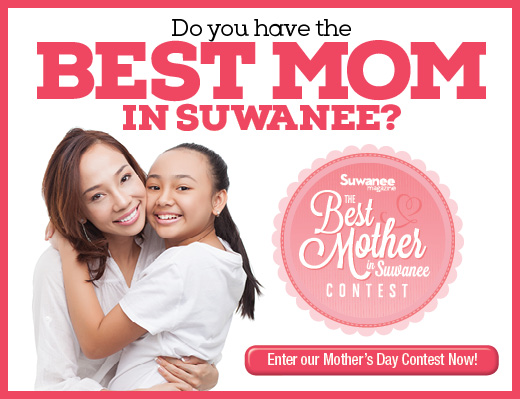 Thank you for entering our 2016 Mother's Day Contest! Winners will be announced early next week.
Think you have the best mom in Suwanee? Think your mom deserves a day of pampering, shopping and relaxation? Tell us why!
You may submit your mother, daughter, sister, wife, grandmother or friend as the "Best Mother in Suwanee." We will be accepting entries below through Friday, April 1st. The winner will be notified and featured in the May/June issue of Suwanee Magazine!
To be eligible, mothers do not need to live within the City limits of Suwanee but must reside within the readership limits of Suwanee Magazine. This includes: Suwanee, Lawrenceville, Buford, Sugar Hill, Duluth and Johns Creek.
Contest Winners Will Receive:
Spa Day & Makeover at Salon Greco – before & after pictures to be featured in Feature in the May/June issue of Suwanee Magazine
Gift Card to shop at French Touch Boutique
Gift Card for Hairllucinations Salon
Gift Card for Bio Salon
Gift card for JustB Hair Salon
Teeth Whitening Certificate from Jennifer McCoy Dentistry
Gift Card to Rico's World Kitchen
Gift Card for Bare Bones Steakhouse