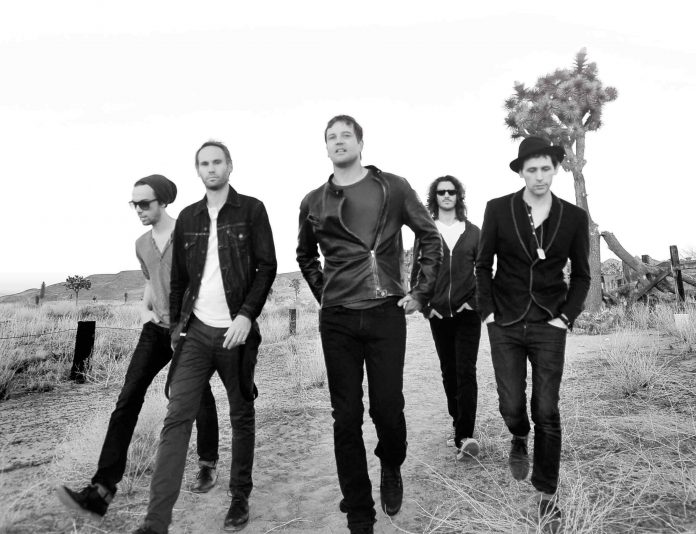 By: Priscilla Salmasi
On tour with their fifth studio album "Dopamine," San Fransisco band, Third Eye Blind, will roll into town Labor Day weekend, playing Sugar Hill's Sweet Life concert series. We were able to catch up with their lead guitarist, Kryz Reid for an exclusive interview on their tour so far and their most critically acclaimed album to date.
We've noticed you've been attending a lot of festivals. Are you trying to specifically reach a younger audience by playing festivals? Our audience is very young as it is. There's never been a bigger demographic of people than at a Third Eye Blind show. We have people in the front row with X's on their hands because they're under 21; people even bring their kids, we have a full range of people there, definitely. It's so much fun to go out and play festivals. Before we come to Sugar Hill, we're playing Summer Sonic music festival in Tokyo, Japan, which is my second home. Then we play Leeds festival in London. I used to go to that when I was a kid. I would see big American bands that would come to the UK, but they would not come to Ireland. My mates and I used to take the boat across from Ireland to England and go to the Leeds festival.
What do you think it is about the music that resonates with a new, younger generation of fans?
It's Stephen, 100%, Stephen's voice and his lyrics. I'd love to take more credit for the new record, but musically, the band has always been very diverse and eclectic and has a signature sound; but at the same time, the band musically is always moving forward.
Did you know Brad and Stephen before you joined the band? I've known Brad for about 150 years – just kidding. We played together in Brad's side projects in Los Angeles, but I didn't know who Third Eye Blind was. When they had issues with their old guitar player, he called me up and said, you've got first dibs here. I had never listened to this band, but then I just fell in love with it.
Do you have a favorite song on your new album, Dopamine? It moves around a bit; more when we were writing the record I was calling out my favorites, but once the record was done and all the songs were there together, I couldn't choose a favorite, they're like your kids, you know?
How do you narrow down the songs to decide which go on the album? It's a very painful process of listening to all the songs… no, I'm kidding. We shoot through the tracks and we have column A, column B, column C, with column A being our favorites. Then we take count of how many are in each column. Brad, our drummer, is the worst because he always says he likes them all.
Do you demo the songs while you're on tour before the album comes out, to see how the fans are reacting? Yes, it's a little tricky for us to do – because the band is so big when we demo a new song, it ends up on YouTube and then if Stephen changes one of the lyrics people get upset. That happens a lot, so it's kind of like maybe, maybe not. We do usually during sound checks, because the fans there are not allowed to take pictures or film and that's been working out quite well.
What's the process of getting the set-list together for the show? We all sit down at a table to discuss the music for an awesome 60 minute set for our festivals and shows. I'm the only one in the band, that can actually write, you would not believe what their handwriting looks like; it's chicken scratch. I always end up with the sharpie and most of the time we play the same set list with a few tweaks.
Are there any songs you enjoy playing live the most, either new or old? Again, all our songs are like our children. After I was in the band for five or six years, I asked Brad if he still gets a kick out of playing 'Semi-Charmed Life' after 15 years, and he had the best answer ever, "We don't want to play that song during sound check or rehearsal, but when we play it on stage the reaction to it is so huge, it makes it really enjoyable to play." ✱