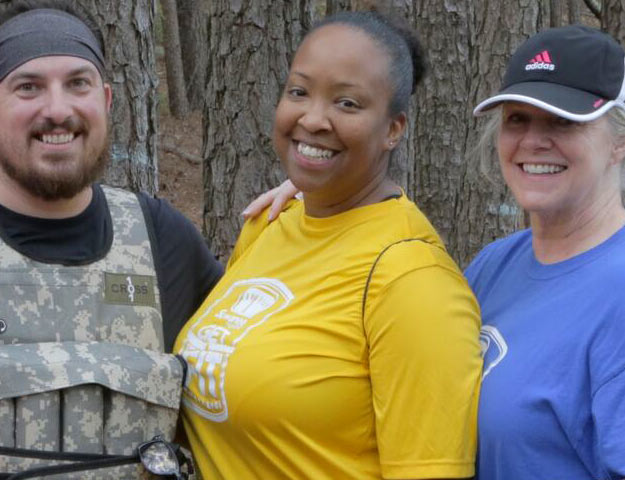 All good things must come to an end! This experience with #SuwaneeGetFit has been more than just a good experience, it has been AMAZING! It was everything I thought it would be and THEN SOME! I knew signing up for this challenge I wanted to get back to being healthy and being my best self, but I also wanted this opportunity to meet people in Suwanee. My husband and I relocated from New York 4.5 years ago and we haven't been able to meet many people in our area —perhaps a little busy raising our kids but this challenge has introduced me to so many great people in Suwanee. It's even more effortless getting to know others when you all have that one thing in common and that is living our best life by way of being active in the gym, healthy eating tips, work/life balance and just having pure fun!
I am so very thankful to Suwanee Magazine for pairing me with Kevin Burkhart. I seriously couldn't have asked for a better partner. He has been such a major inspiration for me and one of my biggest supporters. We've encouraged and watched each other push through the toughest workouts we've ever experienced; I mean that intense grit and grind but effective kind of workout! Kevin has taken this challenge and RAN with it never looking back. If you haven't read his blogs, it's a must-read. He is an attorney by day and I can't help but wonder if he's as dedicated, thorough and tough in the gym, he must be an amazing attorney! No one can convince me otherwise. Thank you Kevin for being you and giving it all you got…I'm watching you! Lets keep this lifestyle going! I'll see you on the other side of those burpees!
To my fellow competitors, it has been so great to meet you all, watching (and reading) you pushing through all of the challenges faced throughout this competition. I've enjoyed our group outings, our Facebook chats exchanging tips and encouragement to keep going! I truly hope we stick to meeting periodically and continue blossoming our friendship.
My family and friends, none of this would be without your support! My husband and mom have hands-down been super supportive. Those late nights working out in the gym and early Saturday mornings allowed me to give this competition everything I had in me! You even see and feel my results and that drives you to want to continue to be there for me…THANK YOU! My friends who have been following along on social media, thank you for your words of encouragement on the days it got a little rough! There were friends of mine who privately messaged me that I've inspired them to begin a healthy lifestyle. Many saw that if I was a mom of two little kids and had the time to workout, then they absolutely can! To me, that is priceless and means everything to me that I was able to inspire others. I promise to continue this lifestyle and document along the way! Lets continue supporting and lifting each other!
Last but certainly not least, Crux Fitness! Where do I even begin? Dan! Dan! Dan! When you first meet Dan, he looks like he will kick your butt in the gym (because he will) but he is the most genuine, kindest, dedicated person you'll ever meet. I truly mean that! I know that my fitness journey is just in the infant stage but you have helped build Shonika back to LIFE! I am a completely different person who puts herself first (will put my mask on first and then others), make the gym a priority (it's 45 minutes out of 1440 we ALL receive in a day), have a healthy nutrition (make better food choices) and even have time for a little fun (Thirsty Thursdays) and a social life! The members and trainers at the gym are hands down A-MAZING! They have all been true Kevin and Shonika supporters! They keep up with our blogs, encourage us throughout our workouts and just love to have a good time IN and OUT of the gym! It will be business as usual after this competition is over. Im not going ANYWHERE!! Thank you so much Dan & Crux Family!!
Suwanee Magazine I hope we made all of you proud! You all have been there for support from Day 1 even working out with us and joining our group outings. We were truly all in this competition together! You have my word that I will keep this lifestyle up, thats the least I can do to thank you all! Win or lose, I've truly already won within! I feel so full of life and know for sure I will be able to keep up with my boys. They may just have to keep up with mommy! But thank you so very much for this opportunity. I will forever be grateful for Suwanee Magazine, #SuwaneeGetFit!!!